West facing Pattaya on Thailand's Gulf Coast is ideal for many things, including enjoying outstanding sunsets. The drama, the colours, the sky's atmospherics, and the interplay of light on the waters of Pattaya Bay all come together to make each sunset unique and, in the great majority, totally memorable.
Visitors can take in these sunsets from ground level on the golden sands of Pattaya beach or perhaps from the top of Pratamnuk Hill. Our preference is from one of a select number of rooftop bars in central Pattaya that provide the best possible vistas.
After all, what could be better than a chilled refreshment in hand while lazing back on a comfy lounge. Add to that attentive staff tending to your needs, mixologists crafting creative cocktails just for you, tasty snacks delivered to your table, and cool DJ beats adding to the relaxed ambience. All the while, you and your companions take in the changing drama of the fading sun and the onset of night.
This guide provides a select list of Pattaya's rooftop bars worth venturing up to. Do check them out when next visiting.
Horizon Bar & Restaurant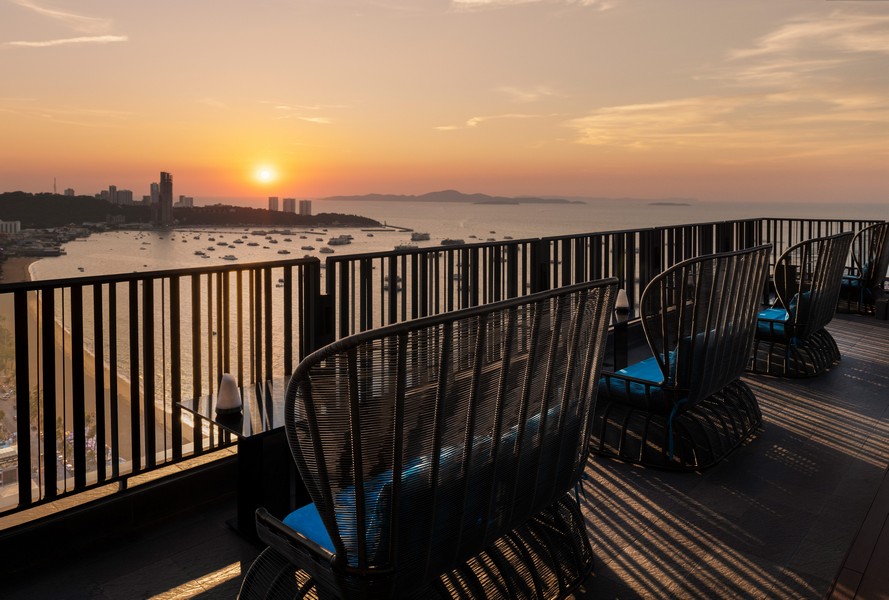 In a prime location on Beach Road overlooking Pattaya Beach is Central Festival Shopping Centre, with the Hilton Pattaya hotel perched atop. Venture to level 34 of the Hilton Pattaya for, in our opinion, Pattaya's best rooftop venue – Horizon Bar and Restaurant. Sleek, modern and sophisticated, this is a truly exclusive hideaway from the bustling city below, offering some of the most breathtaking Pattaya views.
The expansive skygazer deck with its daybed lounges or deck edge tables is ideal. If needing to be close to the bar action, then the Infinity Bar extending further from the deck towards the bay is the spot. Indulge in signature cocktails and snack on delicious Bar Bites while enjoying the gentle sea breezes in comfort and style. As an added incentive, Horizon Bar offers a buy one get one free daily during their 4 pm to 7 pm Sunset Sessions. Horizon Bar and Restaurant operates from 4 pm to midnight. Visit their dedicated website for more details. www.horizon.bar/
The Rooftop at Holiday Inn Pattaya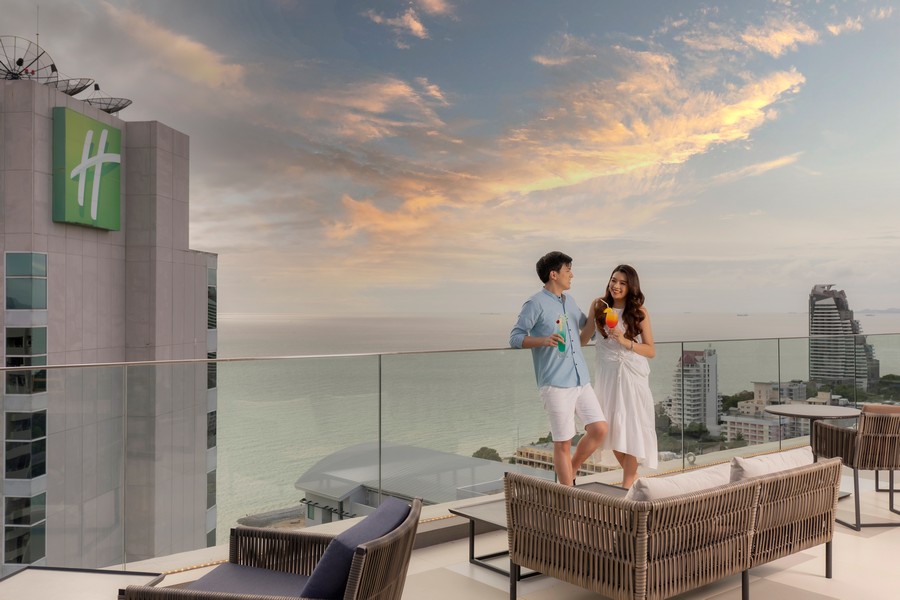 At the northern end of Beach Road sits the Holiday Inn. The hotel has two towers, with the Executive Tower sitting behind the beachfront Hotel Tower. Perched on the 25th floor of the Executive tower is the simply named, The Rooftop.
Open nightly from 5 pm, this intimate rooftop terrace is stylishly decorated with great views north and south to Pattaya Bay. Check out their classic cocktails, and be sure to peruse the Tapas menu for accompanying snacks. There's daily happy hour (5-7 pm) with a buy 1 get 1 offer on selected beverages, and live DJs play Thursday through Sunday. Visit the hotel website for more details. www.pattaya.holidayinn.com
Virgin Rooftop Pattaya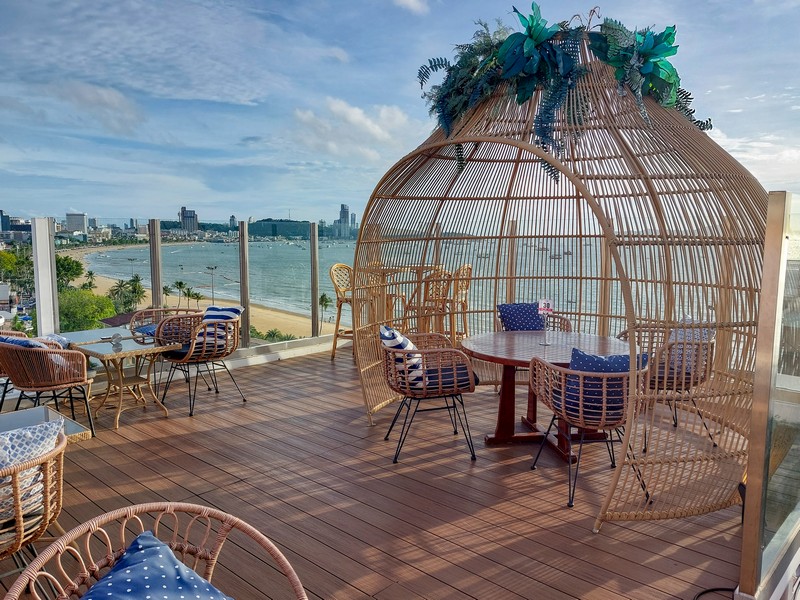 Pattaya Sea View Hotel just a few buildings back from Beach Road, is home to Virgin Rooftop Pattaya. Set on the 9th floor, the decked wooden terrace comes with bamboo-style bar seats, dining tables, and some very comfy daybeds floating in the rooftop plunge pool. It's like a tropical beach bar, high above the beach and without the sand. The extensive drink menu includes a varied selection of mocktails and cocktails, refreshing smoothies, plus bubbles and wines, both by the glass and bottle. Come early for drinks and the fantastic sunsets, or during weekends vibe to the live DJs and vibrant lounge atmosphere. Stay for dinner if the mood strike. Visit their website for more details https://virginrooftop-pattaya.business.site/
ISEA Sky Bar & Restaurant
Head south from central Pattaya just a few kilometres to Na Jomtien for our final Rooftop bar. Oceanfront at the Veranda Na Jomtien – MGallery Resort is their ISEA Sky Bar and restaurant. Four floors up, overlooking the Instagram-worthy resort pool and beach, ISEA Sky has uninterrupted ocean views and is an ideal vantage point for those Pattaya coast sunsets. Open from 5 pm daily, settle in for sundowners. Be it with one of ISEA Sky's signature cocktails, chilled wine or a refreshing cold beer while tucking into tapas-style small plates. Once sunset is done, head up the stairs to one of the most romantic open-air rooftop restaurants in Na Jomtien. Visit the hotel website for more https://www.verandaresort.com/verandapattaya/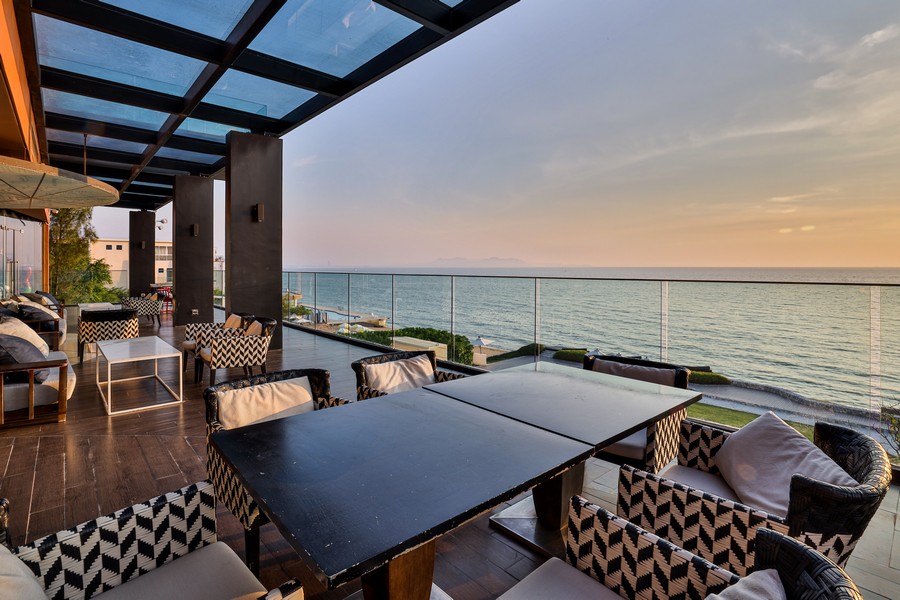 You now have our recommendations of great rooftop bars to take in Pattaya Bay sunsets. Why not check them out on your next Pattaya trip? After all, sundowners in a spectacular setting are an excellent way to close a day and kick off an evening of fun. Cheers; Chok Dee; Salud; Cin Cin; Skål; Santé; Kanpai – or however you wish to toast the day!
By Michael Cullen