Praya Dining is tucked away within a boutique hotel on the eastern banks of Bangkok's mighty Chao Phraya River. One of its many appealing aspects is it is only accessible by boat from Rattanakosin's Phra Arthit Pier. As judges from Thailand's Michelin Guide recognised when adding Praya Dining to their Bangkok listing in 2021, the short boat trip is a further bonus to a highly rated dining experience. In fact, in-the-know Bangkokians and well-informed visitors regularly cross the river to experience Praya Dining's' extensive lunch or dinner offerings.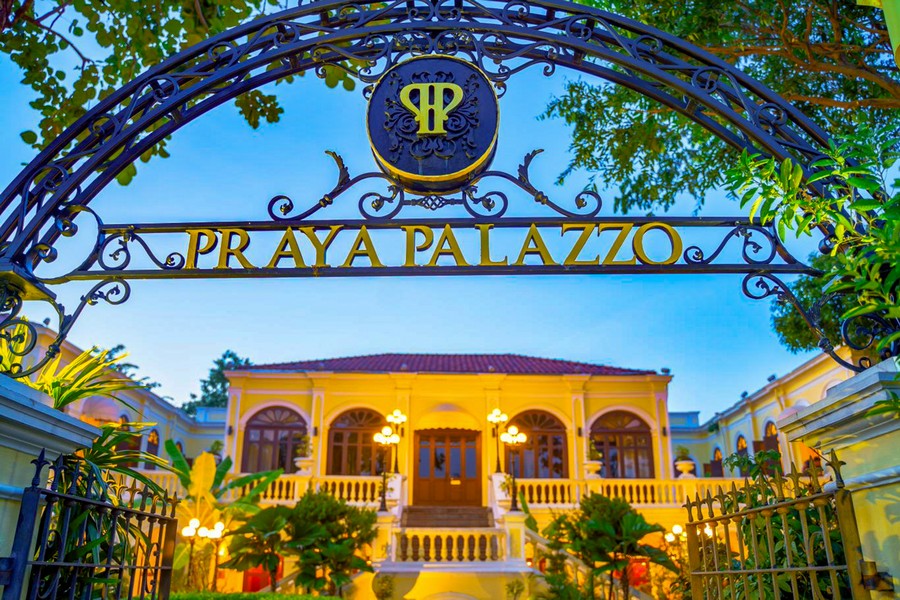 Praya Dining sits within the bespoke 19-room Praya Palazzo, one of Bangkok's most characterful riverside hotels. This century-old Palladian-style mansion was originally the residence of a Thai nobleman with an important role in the Royal Court's Customs Department. The original building, called "Baan Bang Yee Khan", is typical of the Italianate architecture of this period.
In 2006, having stood empty and abandoned for 20 years, the property was purchased by Bangkok Architectural Professor Wichai Pitakvorrarat. With his wife, they spent the next four years meticulously restoring the dilapidated buildings and grounds to create a handsome and intimate heritage hotel.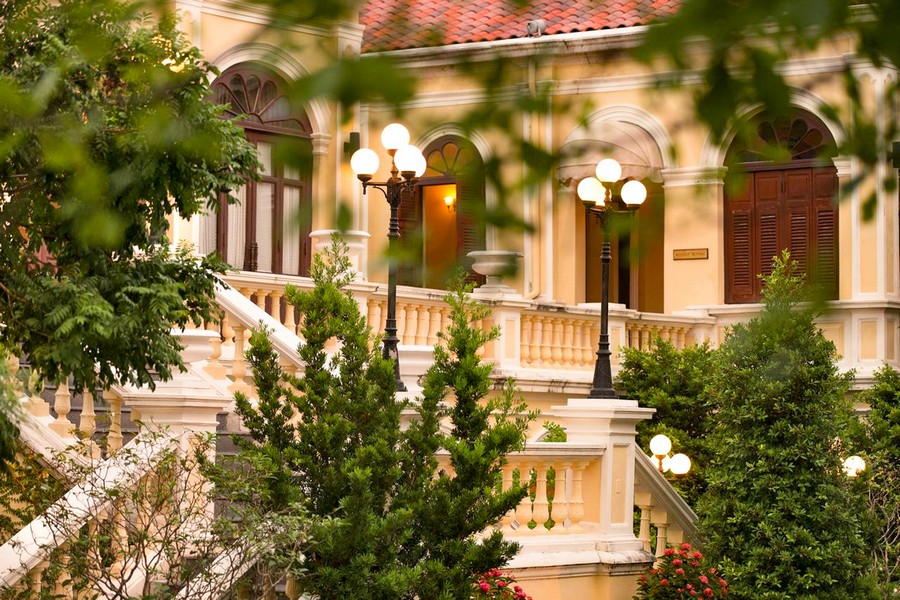 Praya Palazzo and the in-house Praya Dining is now part of Thailand's Montara Group, operator of the exclusive Phuket luxury resort, Trisara. Montara also operates the Michelin-starred PRU in Phuket, which the Let's Eat team has previously had the pleasure of reviewing.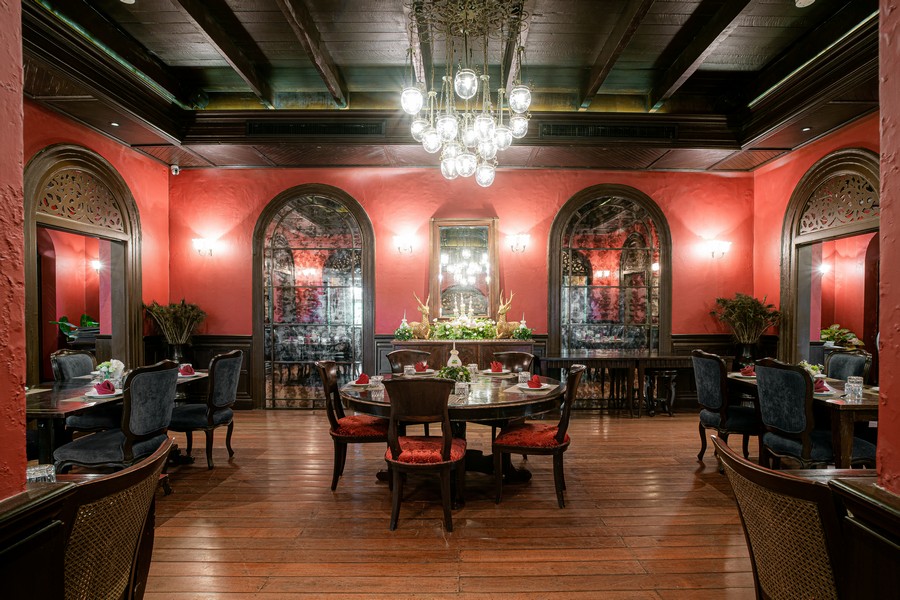 Praya Dining's setting is elegant, with dark wooden floors, cardinal red walls, and glinting chandeliers, while vintage-style furniture and decorative items add to its classic charm. Dining in the hotel's garden overlooking the river may also be an option, weather permitting. 2023 marked a century of existence for this heritage property, and the Praya Dining team worked to further enhance the links between the culinary offerings and the building's historic appeal.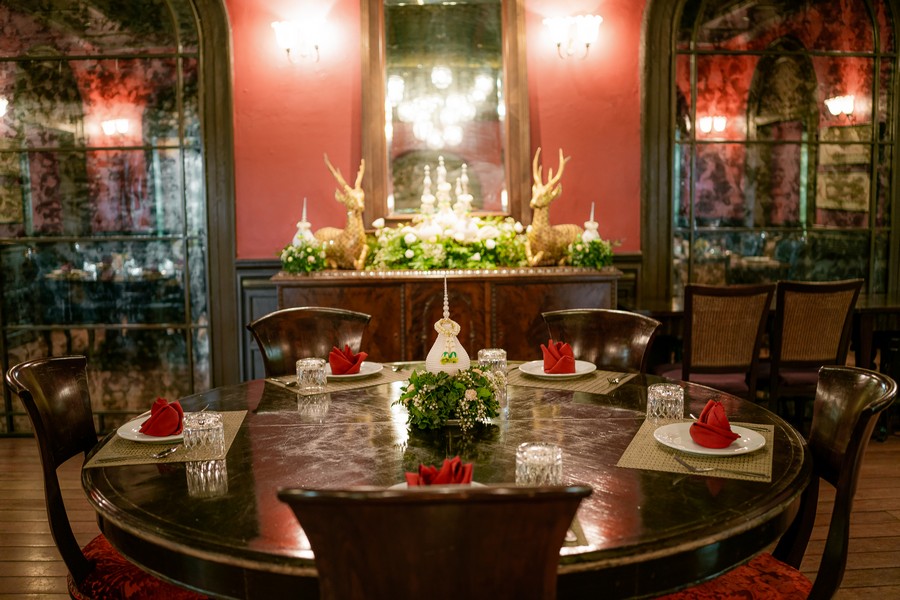 Following much research, a redeveloped menu was launched to take diners on an enchanting culinary journey through Siamese history. This new menu presents dishes from each era, starting in the ancient Kingdoms of Sukhothai and Ayutthaya to prosperous Rattanakosin and modern Bangkok. Recipes from cookbooks dating back over 100 years were consulted to highlight Thai cuisine's evolution, specifically Royal Thai Cuisine.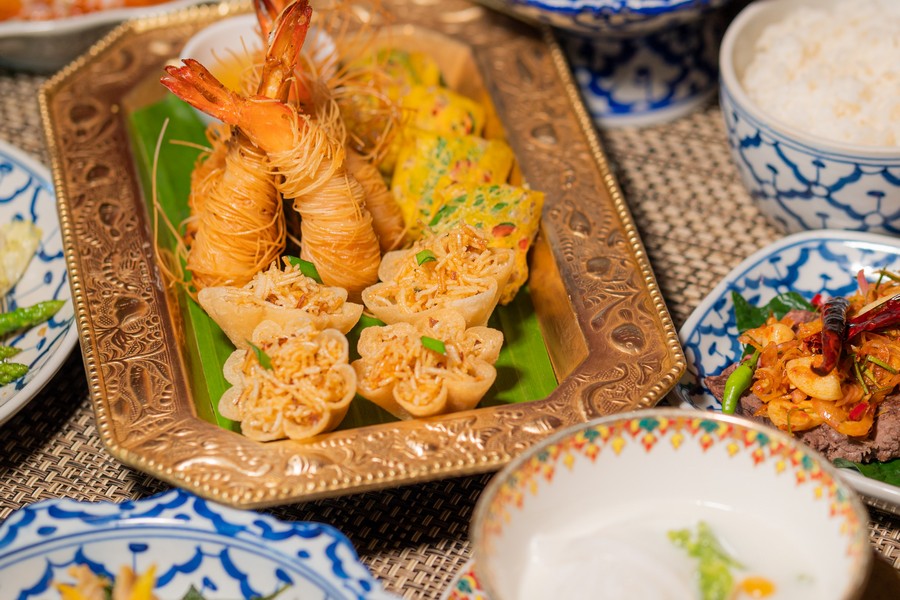 If the menu feels overwhelming, do as the Let's Eat team did and opt for the 5-course Signature Set comprising dishes curated in honour of the centenary celebrations. Our food journey started with a selection of appetisers. Goong Sarong – fresh, plump, sweet prawns wrapped with vermicelli noodles and deep-fried. Sarong meaning "wrapped around", like a sarong wrapped around a waist. This dish's history goes back to the Ayutthaya period and is an example of the Chinese influence on the evolving local cuisine.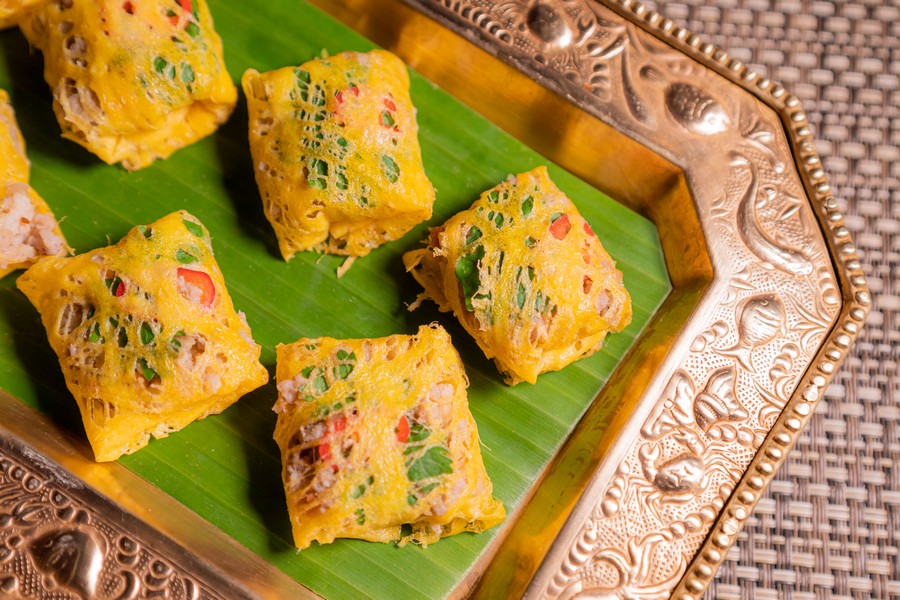 La Tiang is from a bygone era and a dish rarely seen today. An ancient snack of pork, shrimp and peanuts spiced with pepper and wrapped in a delicate egg net. The final starter was Mee Krob Kratong Thong, petit crispy golden cups filled with fried vermicelli and a tangy tamarind sauce. All the starters were elegantly presented, refined in flavours and totally delectable.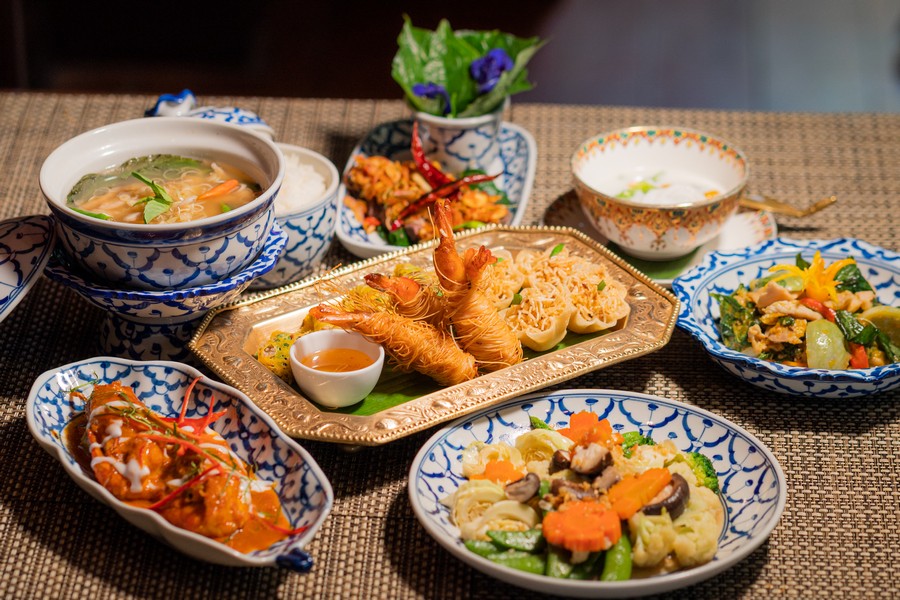 Next was a salad. Pla Neu or grilled beef with betel leaves and fresh herbs with a spicy chilli sauce. The pepperiness of the betel and the bright, fresh, aromatic herbs proved tasty partners for the grilled beef's savoury and rich, slightly smoky flavour. Ran Juan Curry is a traditional spicy and tangy Beef Soup seasoned with Shrimp Paste and was the next of the five courses on the Signature Set Menu. Delivering heat and flavour, this dish dates back to King Rama V's time, when European influences added some sophistication to the local cuisine.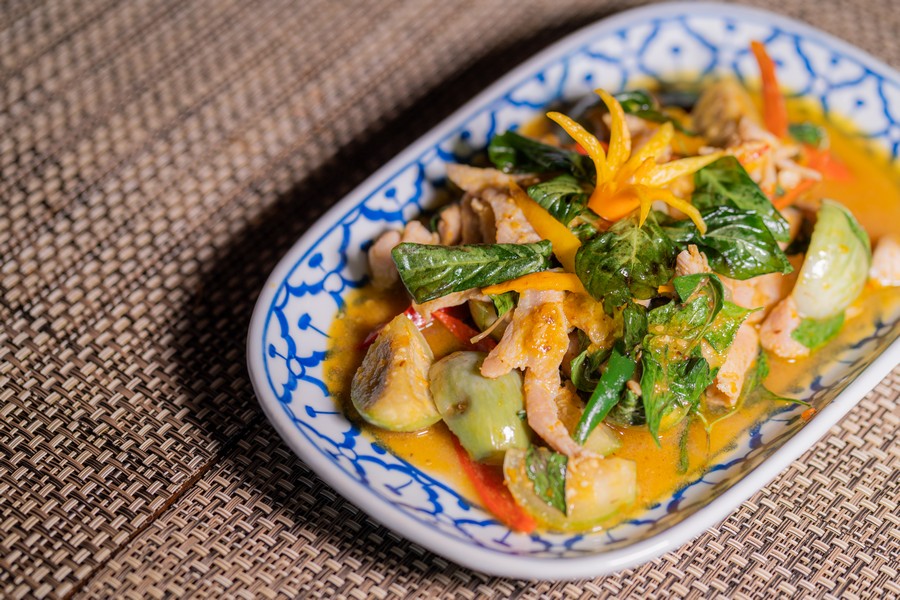 Mains offered a selection of three dishes, all served with steamed jasmine rice. Moo Pad Som Siew is pork stir-fried in a yellow curry paste with som siew leaf, found mainly in the North and Northeastern regions, which, when crushed, adds a unique sour taste. Chu Chee Goong Maenam, where deep-fried River Prawn star is this lesser-known version of Red Curry said to originate from the Central and Southern Thai cuisines. The mains were rounded out with Phad Pak Ruam or wok-fried Mixed Vegetables with Oyster Sauce.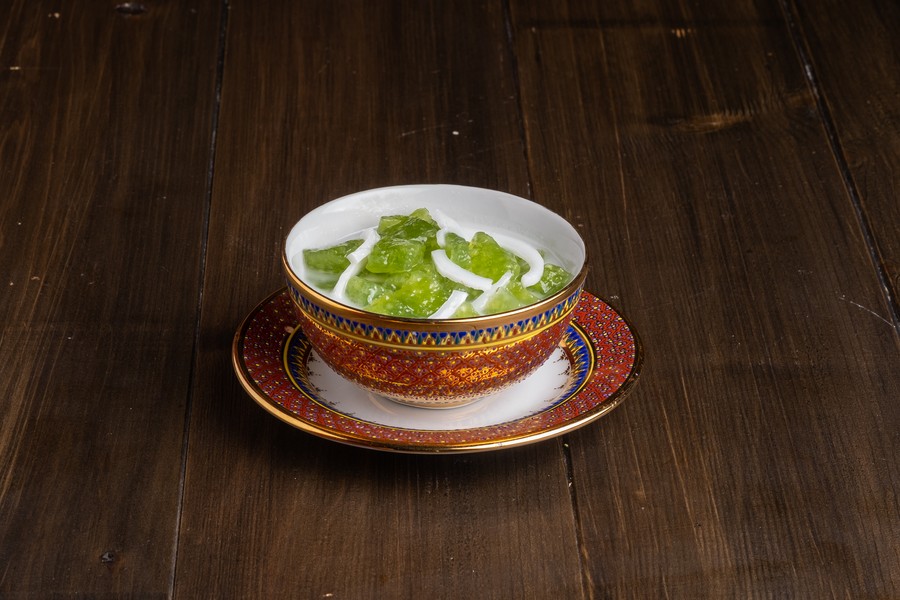 Two classic Thai desserts finished the meal. Bualoy Look Tarn, rice flour balls in coconut milk, and Inthanil, sago balls with young coconut meat in coconut milk. This was a fittingly heritage-inspired conclusion to our Praya Dining journey.
Praya Dining allows diners to experience the rich tradition and repertoire of Thai cooking through recipes from the Sukhothai, Ayutthaya, and Rattanakosin eras. In particular, during the reigns of King Rama II, IV, and V. A time when Thai cuisine evolved its unique identity through seasonings, ingredients, and cooking techniques.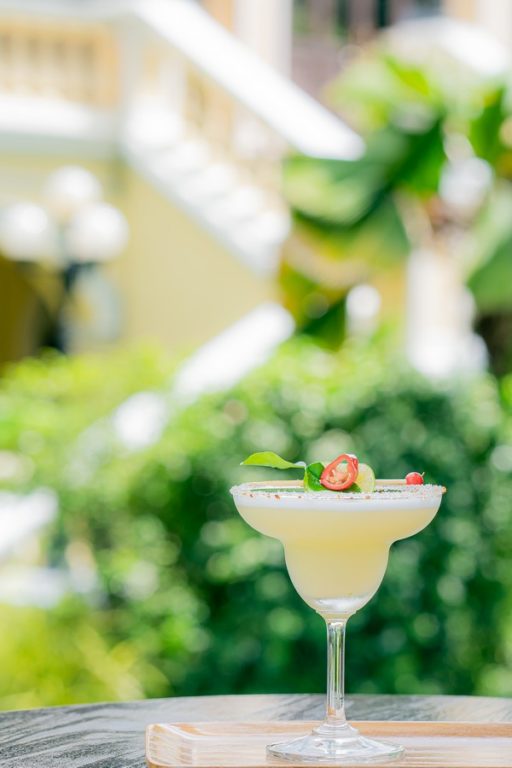 Thai food lovers or students of this cuisine will find visiting Praya Dining a rewarding experience and well worth the short boat ride across the Chao Phraya. Be sure to allow time for cocktails by the pool pre-dinner. Or drop in for a royal household-worthy Afternoon Tea set.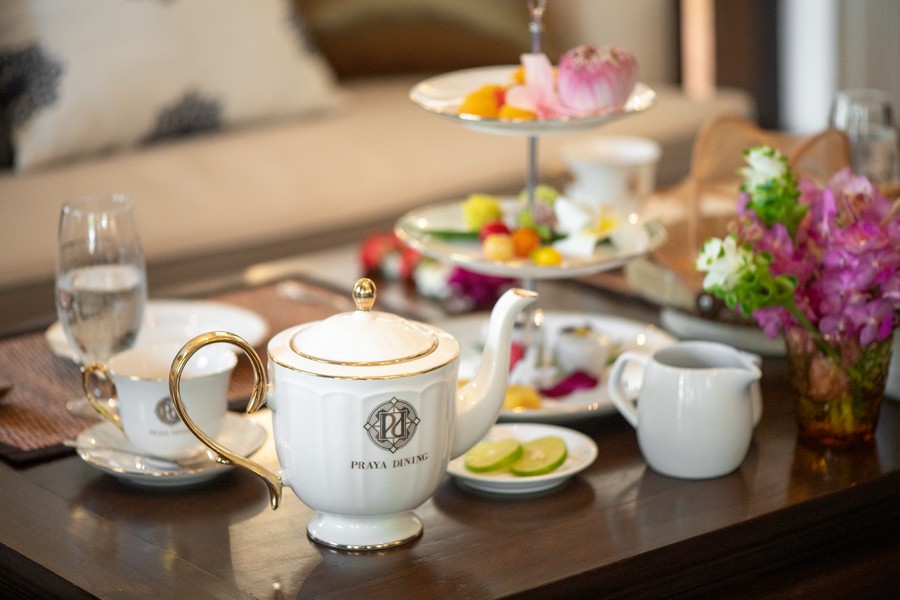 For more details and reservations, phone +6681 4028118 or +66 28 832 998, email fb@prayapalazzo.com or visit www.prayapalazzo.com