Imagine waking up to the sounds of the ocean, surrounded by lush tropical vegetation, and enjoying breathtaking views of the sea. This is the experience you can expect at Garrya Tongsai Bay, a secluded paradise hidden amongst 28 acres of natural beauty wrapped around a private bay with an exclusive beachfront. This luxurious five-star resort offers the ultimate in comfort, style, and relaxation, making it the perfect escape from the stresses of daily life.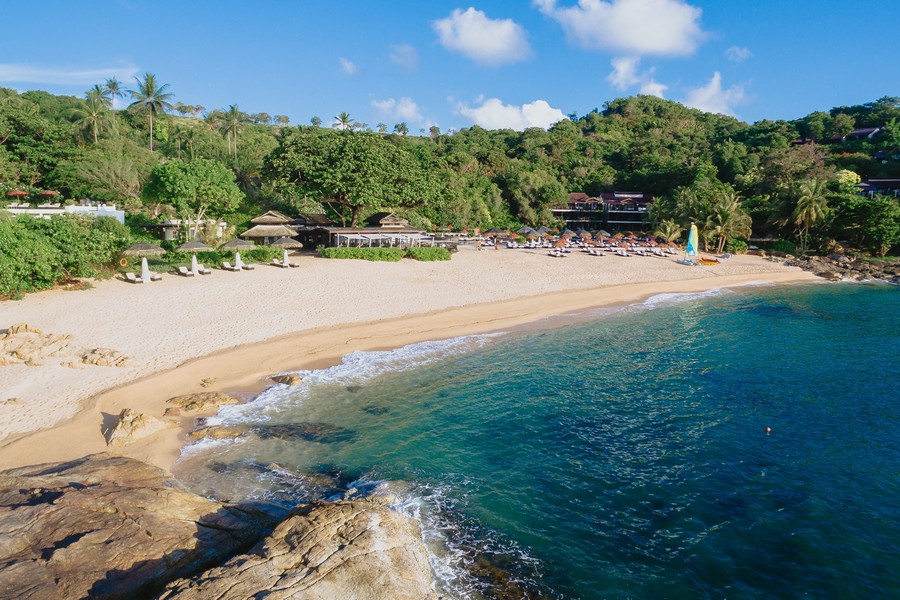 The Tongsai Bay story began in 1985, when the late Akorn Hoontrakul, then Chairman of The Imperial Hotel Group, saw Tongsai Bay from the sea and declared that it was "Love at first sight". Seven days later, Akorn purchased the land and spent three months sleeping on the beach, dreaming of his ideal resort and planning the layout and location of the rooms. The resort opened its doors in July 1987 and became the first five-star luxury hotel on Koh Samui. In 2021, the owners of Tongsai Bay met with the founders of Banyan Tree Group and identified that each held similar high ideals for sustainability, corporate governance, responsible tourism, and community support. A new relationship was formed with the foundation of continuing the legacy and heritage of Khun Akorn for generations to come.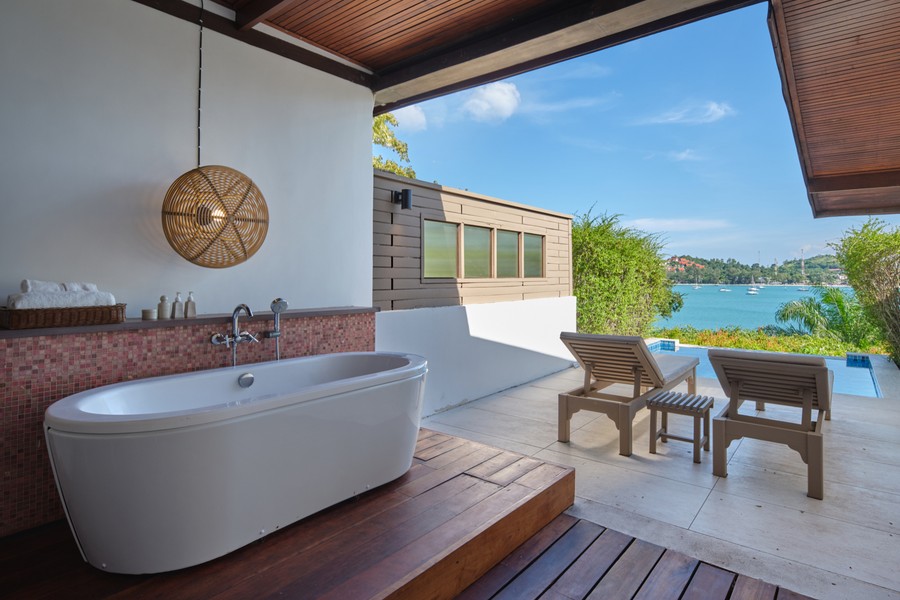 Now known as Garrya Tongsai Bay Koh Samui, the resort offers a sanctuary of 17 different types of luxurious suites and sea view villas with private pools. The resort's location is secluded and peaceful, surrounded by lush tropical vegetation and offering stunning views of the sea. The resort has its own private beach, which is only accessible to guests, providing the perfect place to relax and unwind. The stunning infinity pool overlooks the sea and provides the perfect place to soak up the sun. The resort's private pool sea view villas, provides the ultimate luxury and privacy.
Here, you have a range of dining options. EVOL is the newest addition and offers an intimate location near the Half Moon Pool. At EVOL, it's about creating a dining experience that inspires guests to try new and exciting dishes that are not just tasty, but also nutritionally balanced and visually stunning. Their innovative menu offers a variety of options, including vegan and plant-based dishes that are anything but boring or dull.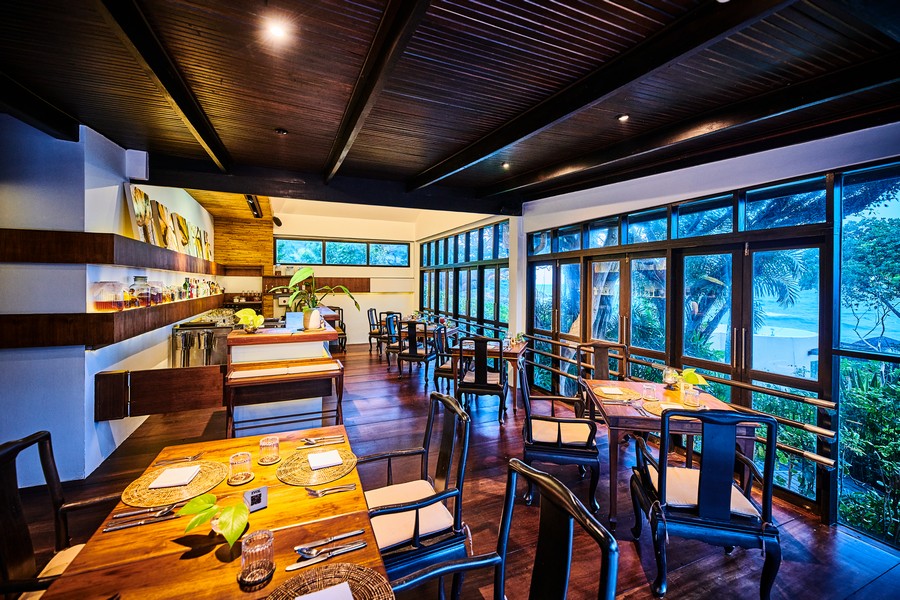 All their ingredients are sourced locally, and they incorporate fresh produce from their very own farm whenever possible. EVOL is more than just a dining experience – it's a celebration of creativity and nature.
The resort's restaurant Fish Tales is a culinary gem that offers a market-fresh selection of seafood, prepared in both Thai and Western styles, with signature dishes that are cooked table-side for an immersive dining experience. But that's not all – they also offer the best cuts of meat, creative pasta and salads, and a range of delectable plant-based dishes that are sure to tantalize your taste buds.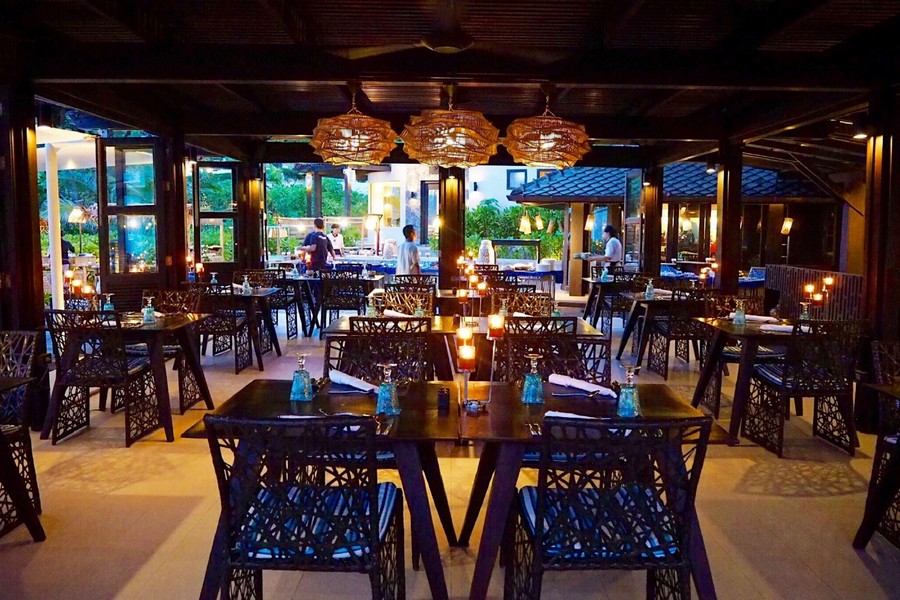 Fish Tales seafood buffets and popup promotions offer a unique culinary journey that will take you on a voyage of discovery through the freshest seafood available. And to keep things exciting, they also offer live entertainment on selective evenings, creating an immersive dining experience that is both delicious and entertaining.
RHOY RHOY! prides itself on offering one of the best breakfast spreads on the island, complete with home-baked pastries, fresh juices from their unique Samui Juice Bar, locally sourced plant based ingredients, and daily breakfast
specials that are sure to make you smile.
But they are not just about breakfast, RHOY RHOY! also offers authentic Thai comfort food for lunch and dinner, sourced from the region where it originates. Their dishes are made using only the freshest ingredients, ensuring that every bite is bursting with flavor and goodness.
Nestled within the luxurious resort you'll find 8ELEMENTS, the ultimate sanctuary for those seeking a reprieve from the hustle and bustle of daily life. This tranquil oasis is designed to help you recharge and rejuvenate with fuss-free treatments and well-being experiences that will leave you feeling refreshed and restored.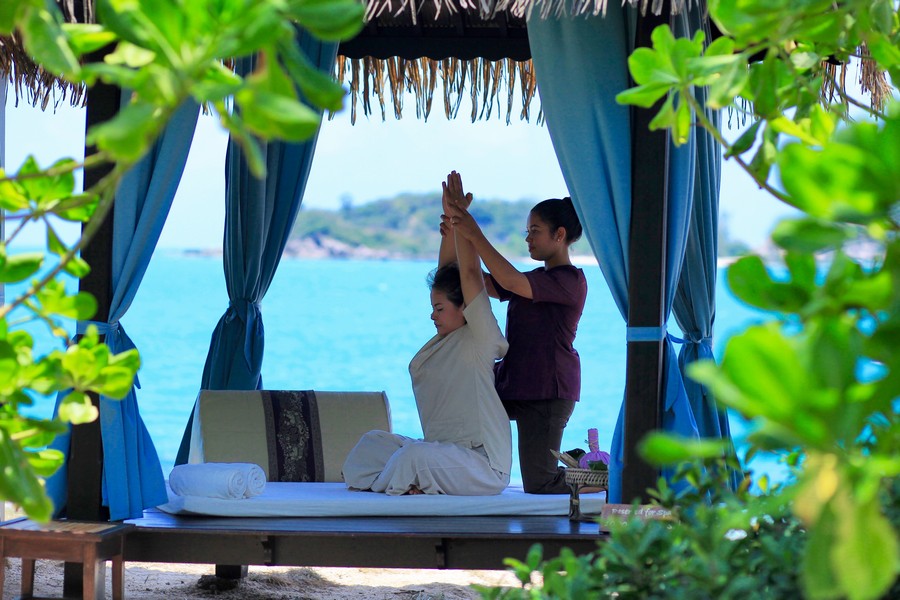 Operating from 10:00 hrs. to 20:00 hrs., this serene space is perfect for couples and singles alike, offering a range of treatments that cater to your specific needs. Whether you're looking for a quick pickme-up or a full day of indulgence, 8ELEMENTS has everything you need to create a luxurious and restorative experience.
The resort also has a range of water sports equipment available, including kayaks and paddleboards, providing guests with the perfect opportunity to explore the sea.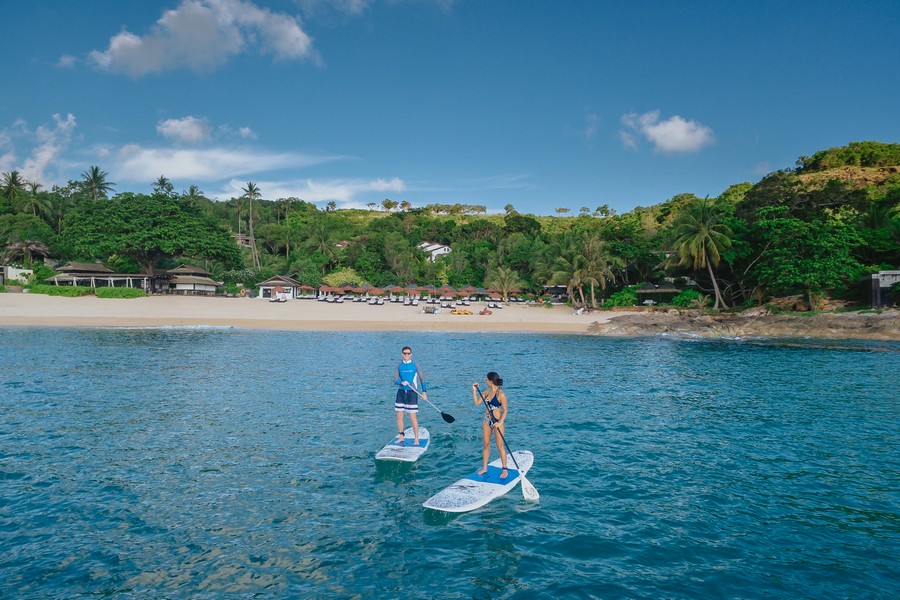 Additional amenities at Garrya Tongsai Bay Samui include; NEST, a co-working space located within the lobby that offers a communal space for guests to work, mingle, and connect with others. Younger guests will enjoy endless hours of fun at the resort's Kids Club, a playground for children aged 3-12 years, they offer a range of activities that include art classes, outdoor activities, and well-being activities such as Kids Yoga and stretching. They also offer kids' spa treatments at thier 8LEMENTS Spa.
For those who want to stay active, the resort's Exercise Room is available 24 hours a day, complete with treadmills, bikes, weights, and more. A tennis court is available from 7:00 am to 9:00 pm daily, with complimentary rackets, balls, and drinking water.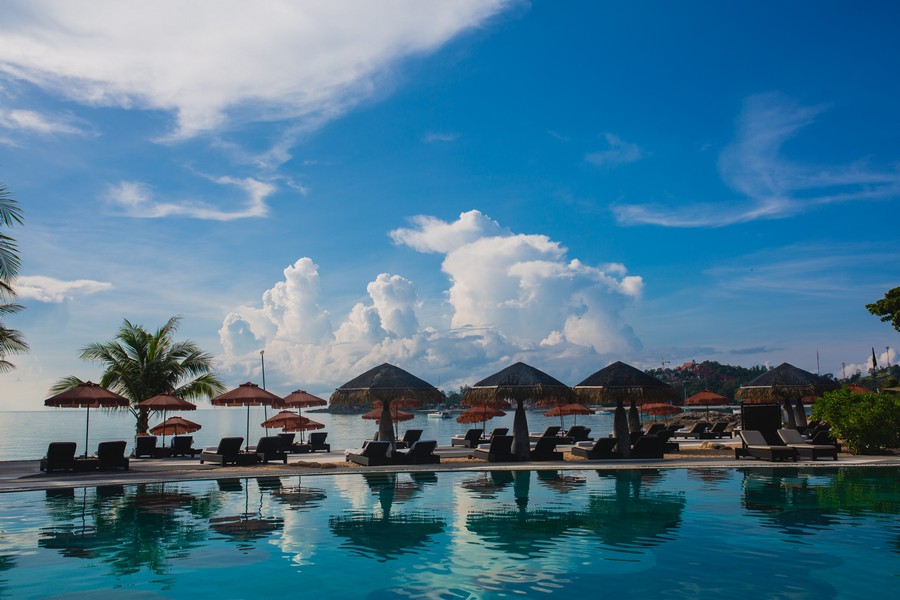 The hotel has two swimming pools. Their Free-Form Pool beachside has a separate children's area, and offers sun loungers with parasols, side tables, fresh towels, bar drinks, and complimentary ice water.
For total tranquility, visit their Half-Moon Pool, located hillside on the pathway from the beach to the villas. The Half-Moon pool offers spectacular views of the bay, and they maintain an adults and young adults policy of 14 years and over to maintain the peaceful nature of this area.

With its large lush tropical gardens and private beach, Garrya Tongsai Bay Samui is ideal for your dream wedding or special event. A comfortable meeting room offers complete flexibility for formal or informal meetings, motivational get-togethers as well as private dining.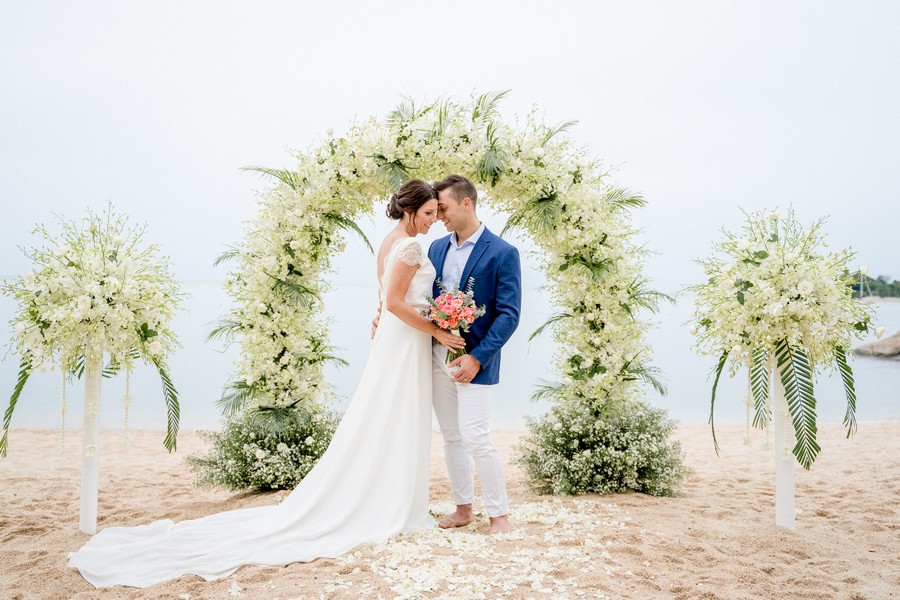 At Garrya Tongsai Bay Samui, they understand that life is busy and stressful. It is why they've curated this luxurious haven allowing you to indulge in ultimate relaxation and adventure, leaving no stone unturned when it comes to creating an unforgettable vacation experience.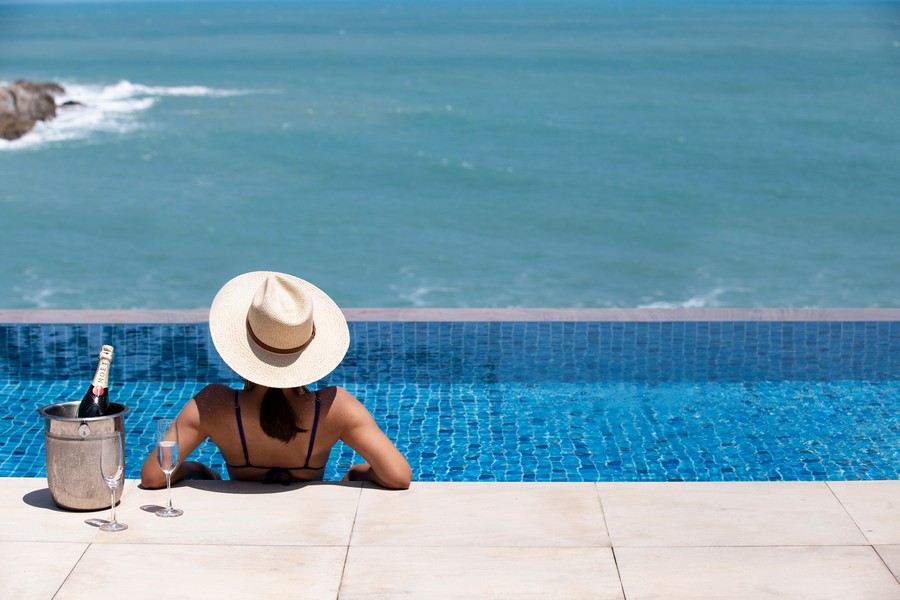 Treat yourself to a revitalizing and energizing holiday experience. Book your stay now and return home feeling renewed, invigorated, and prepared to conquer the challenges ahead.
Garrya Tongsai Bay Samui
84 Moo 5, Bophut, Koh Samui,
Suratthani 84320
+66 (0) 77 913 750
tongsaibay@garrya.com
www.garrya.com/en/destinations/samui