With over three decades of experience in the hospitality industry, Carlton Hotels have set themselves apart as one of the leading luxury hoteliers worldwide. The brand boasts prestigious properties across Asia and Europe, and prides itself on offering exceptional hospitality services and creating memorable experiences for all of its guests. And The Carlton Hotel Bangkok Sukhumvit is no exception – it's a truly magnificent example of what this prestigious chain can offer.
The luxurious Carlton Hotel Bangkok Sukhumvit is where five-star comfort meets exceptional service. Located in the heart of Bangkok's bustling Sukhumvit district, this prestigious hotel offers an unforgettable experience for all guests. From its world-class dining options to its state-of-the-art spa and fitness center, every aspect of the Carlton Hotel Bangkok experience is designed to provide a truly immersive luxury escape, which is why it is one of the city's most sought-after destinations for travelers seeking an indulgent stay in Thailand's cosmopolitan capital.
Room Types
The Carlton Hotel Bangkok Sukhumvit offers a range of luxurious rooms and suites that cater to every need. From the deluxe rooms to the grand presidential suite, all accommodations are designed with exceptional attention to detail and feature elegant furnishings, modern amenities, and panoramic views of the city.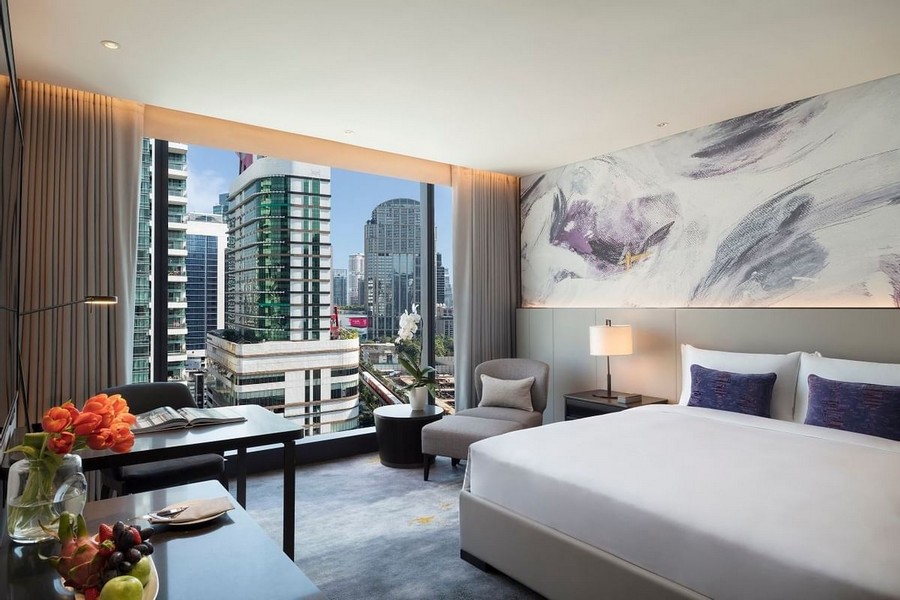 At 37 square meters in size, you have the options of checking into their Deluxe Room, Executive Room, or their Carlton Club Rooms. At a larger 64 square meters, your options include the Executive Suite or Two-Bedroom Family Room. Continuing to grow, you'll be ensconced in 102 square meters of luxury should you choose their One Bedroom Entertainment Suite or their two- bedroom Deluxe Suite. Larger still is their Two Bedroom Carlton Suite at 129 square meters.
For those looking for added comfort & exclusivity, the hotel's executive club level floors offer access to their Executive lounge where complimentary breakfasts, afternoon tea, & evening cocktails can be savored.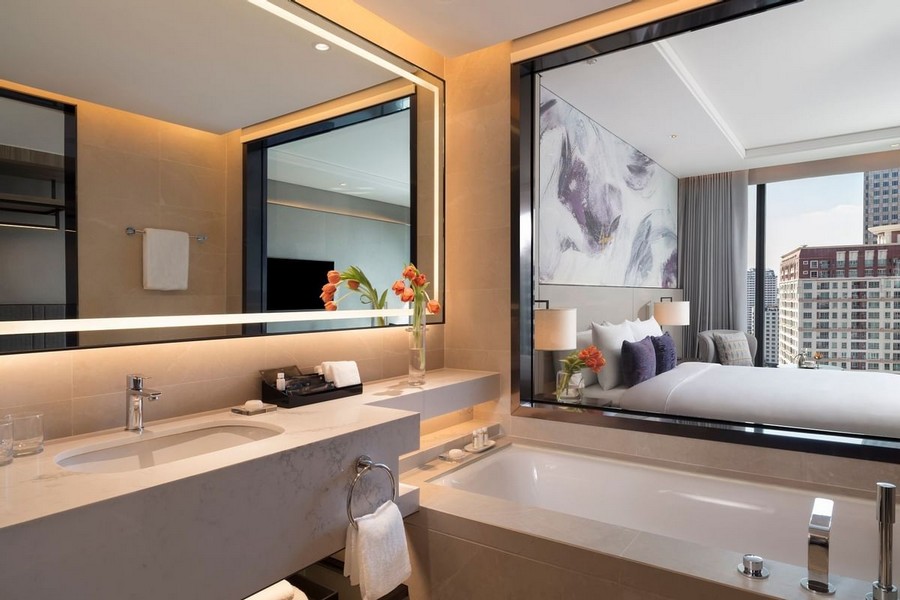 Every room is equipped with state-of-the-art technology including high-speed Wi-Fi internet access, a flat-screen TV with satellite channels as well as an in-room safe for valuables. The sophisticated decor blends traditional Thai aesthetics with contemporary design elements creating a tranquil environment perfect for relaxation after exploring Bangkok's vibrant streets.
Culinary Selections
The Carlton Hotel Bangkok Sukhumvit delivers an array of food and beverage offerings catering to every palate. For those craving Chinese cuisine, the Michelin Guide listed, Wah Lok Cantonese Restaurant is a must-visit venue. Renowned as one of Singapore's top restaurants for more than three decades, guests can now enjoy the same dining experience of unrivaled culinary artistry, freshness and flavour in Bangkok. Executive Chinese Chef Lam Kok Weng's menu entices with a wide range of exquisite delicacies. Plated food is high in quality, using premium imports such as lobster from Boston and Australian beef. The Peking duck skin is excellently prepared with a thin crispy texture. All served in an elegant and contemporary setting overlooking Sukhumvit Road.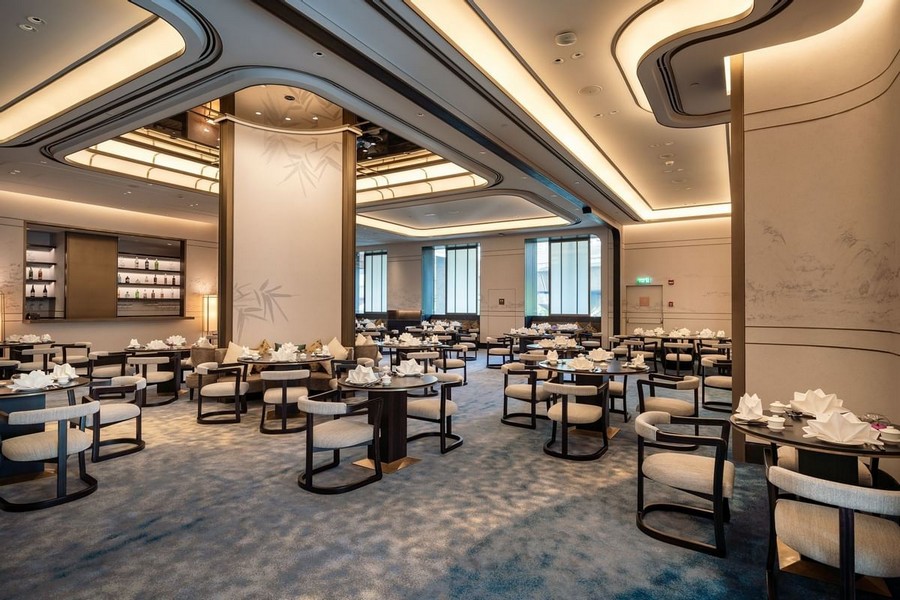 With an open kitchen and live cooking stations, Plate is the hotel's all-day dining venue, serving a wonderful buffet breakfast of international cuisines and local favorites. In addition to breakfast, Plate also serves a ala carte lunch and dinner that includes Straits and Peranakan cuisine.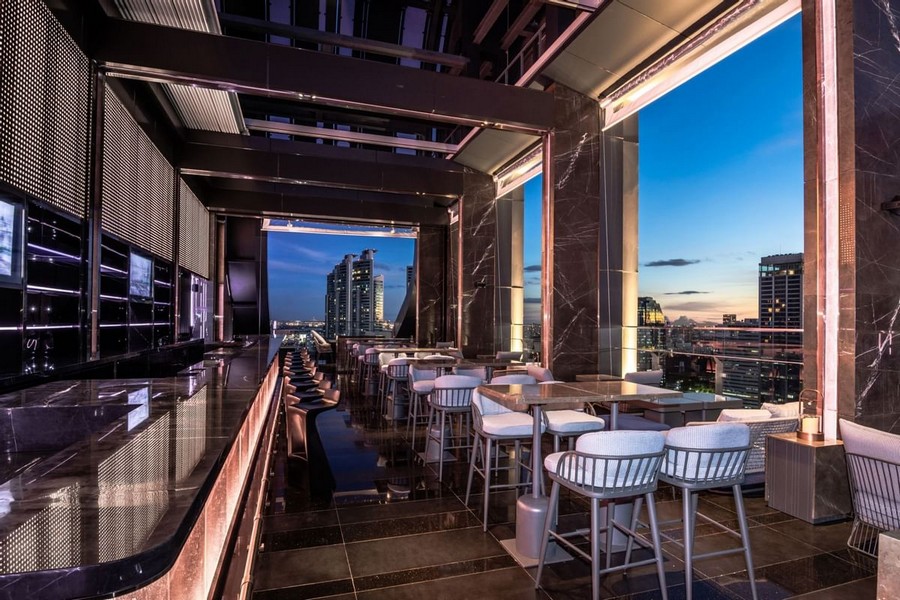 The Carlton's stunning rooftop bar called Cooling Tower is the ideal destination to get together with friends and relax amid spectacular views. From the 34th floor terrace, marvel at the glittering metropolis as you sip cocktails crafted by their experienced mixologist. Tempt your taste buds with a selection of tasty tapas and scrumptious sharing plates, as well as local or imported draught beers, premium spirits, wines, and more.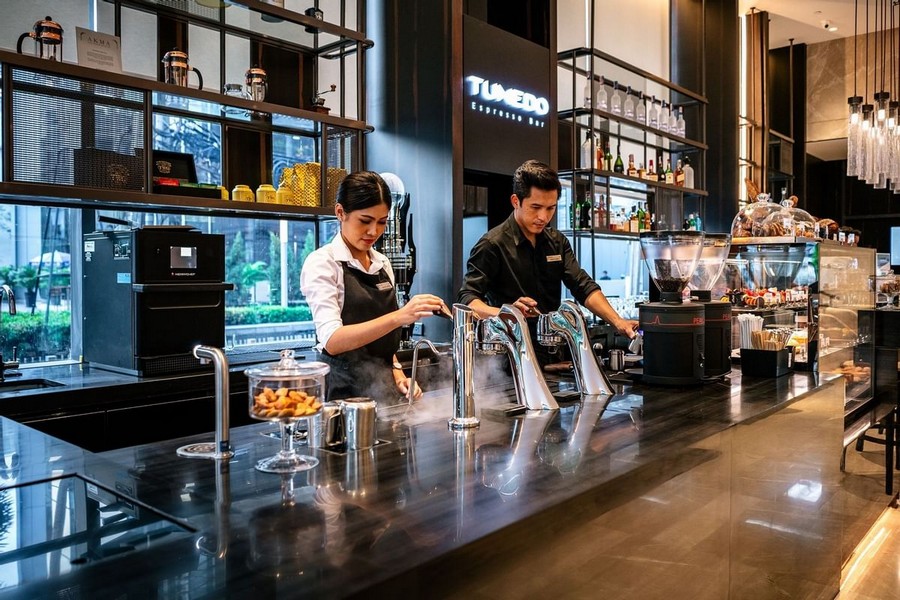 If your preference runs to lighter bites and drinks with friends, Tuxedo Espresso Bar has you covered with their extensive menu of coffee-based beverages and snacks. For poolside consumption, Plunge is where you will find refreshing juices and smoothies, chilled beer, wine or cocktails while savouring delights from the bar menu.
Spa
The Carlton Hotel Bangkok Sukhumvit boasts an exceptional spa that delivers a relaxing and rejuvenating experience to guests. Known as the Let's Relax Spa, it is equipped with state-of-the-art facilities and employs highly trained therapists who offer a range of services, including facials, body scrubs, massage, pedicures, manicures, and much more. Treatments are available for individuals and couples.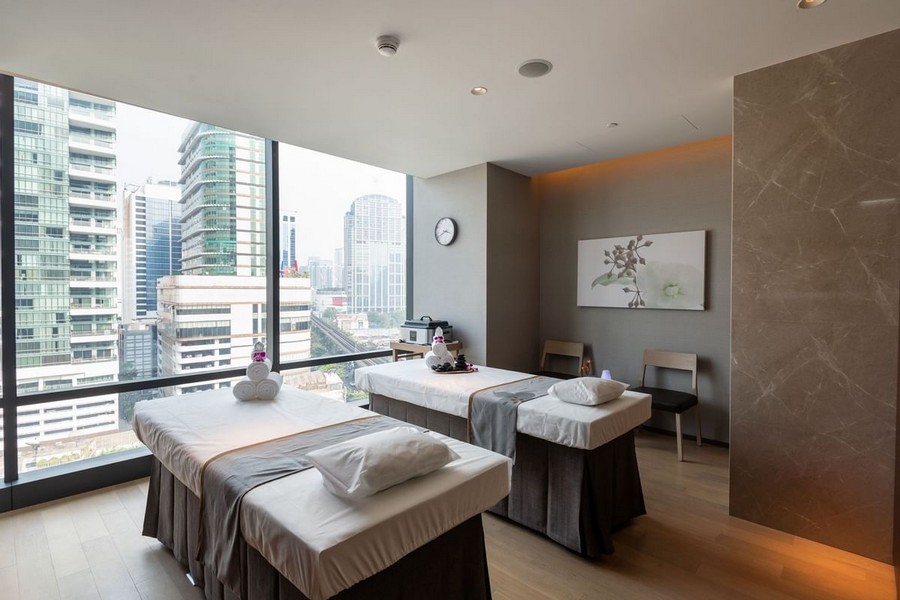 One of the highlights of the Carlton Hotel Bangkok Sukhumvit's spa is its extensive menu of massage therapies. From Thai traditional massage to Hot Stone therapy, their massage treatments are tailored to meet individual needs. Guests can also indulge in customized facial therapies designed to hydrate and nourish the skin.
Gym
The Carlton Hotel Bangkok Sukhumvit offers a state-of-the-art gym facility that is perfect for those who want to stay fit and healthy during their stay. The gym is fully equipped with modern machines, free weights, and cardio equipment that cater to all levels of fitness enthusiasts. A bonus is the stunning Bangkok city views you'll take in from the gym's floor-to-ceiling windows.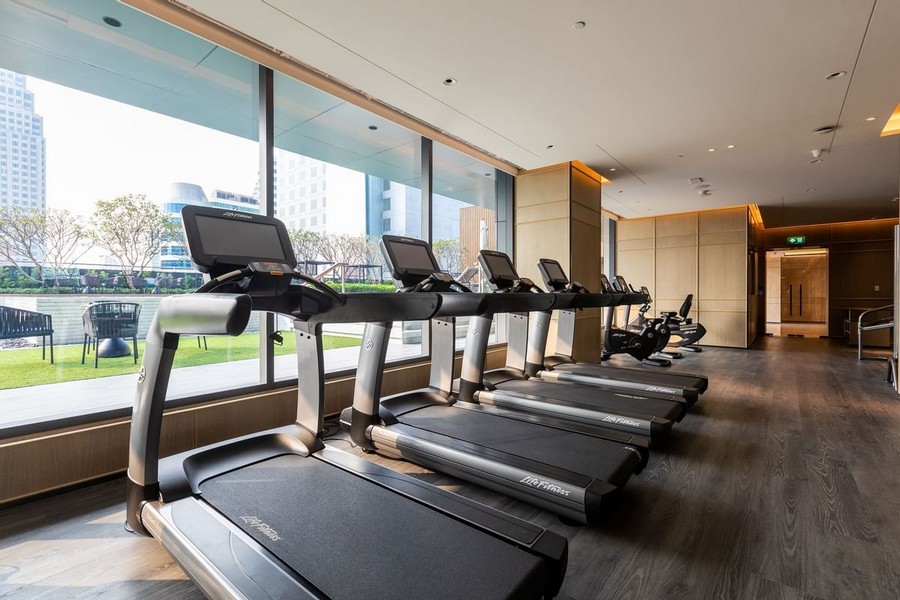 Whether you're into high-intensity interval training or prefer weightlifting, this five-star hotel's gym has everything you need for an exceptional workout experience. Plus, it's open from 6:00 am to 11:00 pm, so that guests can enjoy maximum flexibility in their daily schedules.
Swimming Pool
The Carlton Hotel Bangkok Sukhumvit offers a breathtaking swimming pool that will leave you feeling refreshed and rejuvenated. The 30-meter-long pool is ideal for swimming laps, one of the best all body workouts you can get.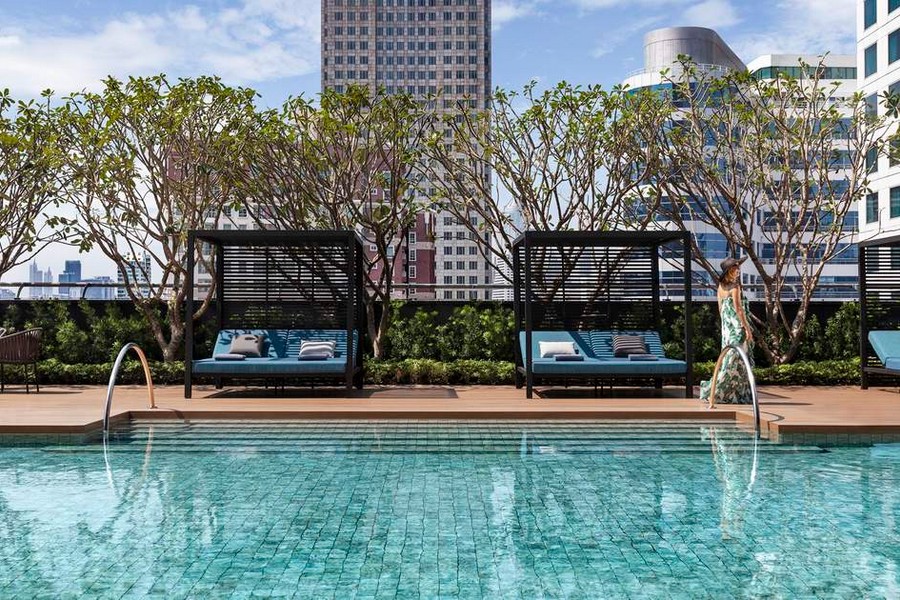 The pool area is surrounded by comfortable loungers where you can relax and soak up the sun while enjoying a refreshing drink from the bar. The water temperature is just right, not too cold nor too hot, providing an enjoyable experience for all guests.
Meetings & Weddings
The Hotel offers extensive meeting and event spaces, spanning 1,200 sqm's. It can handle everything from a small boardroom meeting up to large corporate events, accommodating up to 600 delegates. The highlight is the Carlton Grand Ballroom, perfect for corporate functions, social events, and banquets.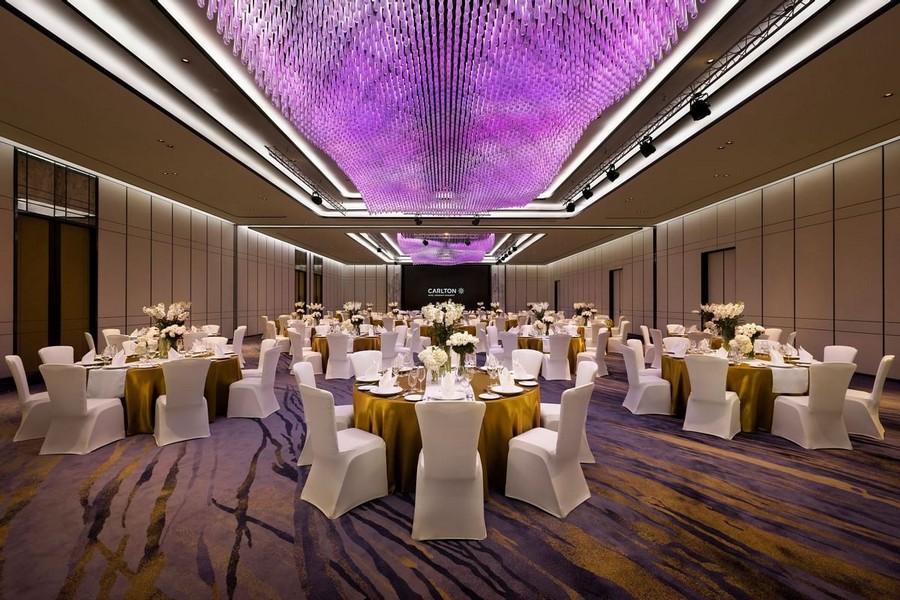 With 10 state-of-the-art meeting rooms, a perfect breakout area, a spacious foyer, floor-to-ceiling LED display, complimentary Wi-Fi access, and customized audio-visual services, every aspect of your event is well taken care of.
Additionally, the Carlton offers a choice of elegant wedding venues, topping out with their opulent Carlton Grand Ballroom for a glittering talk-of-the-town society wedding and banquet.
Location
The Carlton Hotel Bangkok Sukhumvit is located in the heart of one of the most vibrant and dynamic areas of Bangkok. The hotel sits on Sukhumvit Road, a bustling street filled with high-end shopping centers, world-class restaurants, and exciting nightlife options.
Here you are just steps away from some of Bangkok's top attractions, including the Terminal 21 Shopping Mall and Benjasiri Park. With easy access to the city's Sky Train (BTS), & Subway (MRT), you'll be able to easily explore other parts of the city without any hassle.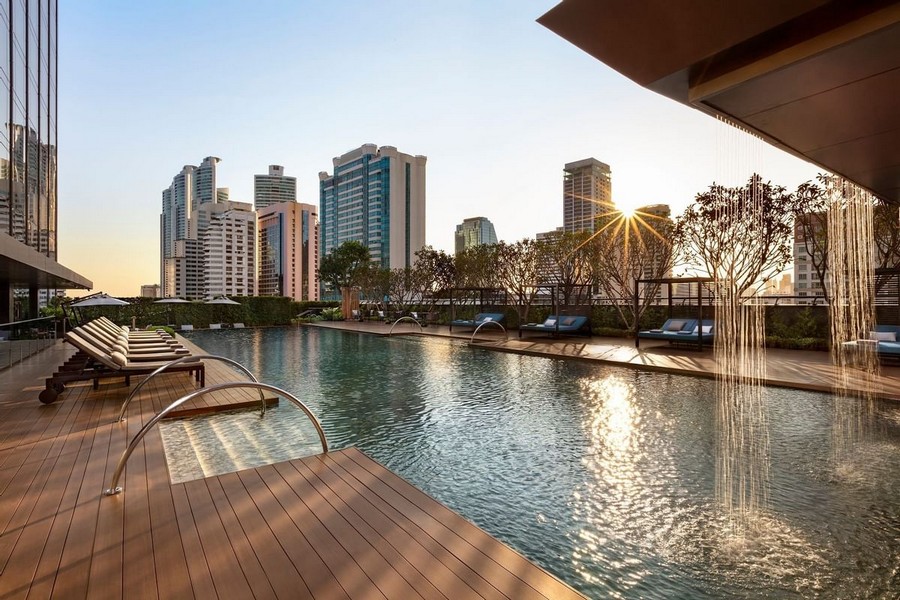 For those seeking cultural experiences, there are several nearby temples worth visiting such as Wat Phra Kaew and Wat Arun. For business travelers who need to attend meetings or conferences near the central business district (CBD), this area is perfect for them since it has become a popular spot for corporate offices.
In Brief
If you're searching for an elegant and sophisticated getaway in Bangkok, then look no further than The Carlton Hotel Bangkok Sukhumvit, With world-class dining options like Wah Lok Cantonese Restaurant, rejuvenating spa treatments, state-of-the-art gym equipment, a serene swimming pool along with the rich history behind the brand, there really is something here for everyone.
Carlton Hotel Bangkok Sukhumvit
491 Sukhumvit Road, Klongtoey Nua,
Wattana, Bangkok 10110
+66 (0)2 090 7888