There are watches, luxury watches and ultra-luxury watches. Buying a Richard Mille watch isn't as expensive as buying a Mercedes Benz, it is as expensive as buying a Really Nice house with a garage containing an S Class Mercedes Benz within.
It is possible to buy a Richard Mille for under 100,000 USD's, not taking into account Thailand's luxury tax, but the vast majority of his watches are $500,0000 and above, with the Richard Mille's RM056 priced at over $2.2 million.
Richard Mille, born in Switzerland, started working at his first watchmaking company in 1974. After working for several companies in the industry, he decided in 1998 to start his own.
He presented his business plan to his friend Dominique Guenat. Dominique was also in the watch business, and their professional relationship over the years had grown into a great friendship, fuelled in particular by a shared love of cars, aeronautics, and mechanics. After reviewing the plan, they decided to go into partnership together.
After three years of research and prototypes, the Richard Mille brand presented its first watch, the RM 001 Tourbillon at Baselworld in 2001. Baselworld is the most famous World Watch and Jewelry Show held in Basel Switzerland each year. Their RM 001 was a manually wound mechanism fitted with a ribbed tonneau-shaped case that revealed the mechanism, the main features of the brand's visual identity, and included a tourbillon calibre, a power-reserve indicator, and a torque indicator.
John Simonian owns and heads the US-based company Westime, the exclusive distributor of Richard Mille watches for the entirety of the Americas. According to John, "Before I met Richard, I had already set up a multi-brand retailer, Westime, in California. He came to see me with his business partner Dominique Guenat in 2001 to show me his first baby, the RM 001 Tourbillon. I was immediately impressed by what he showed me, and we talked for hours. He told me he could allocate two watches to me that year and maybe five the next year—that's how limited the original production was.
I will never forget that first visit when he conducted his special routine while showing me the RM 001. He started by explaining everything about the rationale of the curving case design, the reasons behind the specially made screws outside and inside, the baseplate, his entire philosophy about the watch—and then he came to the watch's incredible shock resistance.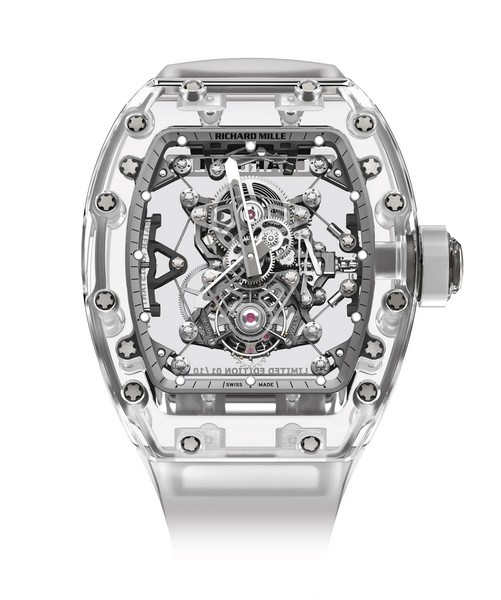 'This is not your usual tourbillon that needs to be babied; I made sure it is as tough as nails and can take any beating.' With that statement, he proceeded to lob the watch across the room, indifferent to where it might land, and it nearly gave me a heart attack. This was not only because I knew that tourbillons are sensitive to shocks in daily life; the watch salesman in me was also upset seeing a watch with a six-figure value sailing through the air over my desk towards the wall… 'Don't worry, go ahead and pick it up, it will still be ticking and keeping perfect time.' What he said was true, and he would go on to perform this routine with almost every watch journalist and collector he could get hold of. Suffice to say, no-one ever forgot him—or his RM 001—even many years later."
In 2002, Richard Mille presented the RM 002, a technological jump on the first model and the first watch in the history of watchmaking to feature a titanium baseplate. This was followed later that year by the RM 003, a dual time zone tourbillon, and by the RM 004 flyback chronograph in 2003.
Richard Mille quickly learned the importance of image, exclusivity, and lifestyle. He understood that while a high-quality timepiece always has inherent value, most customers in the luxury sphere simply did not buy products because they were of high quality. A unique formula was needed to create both demand and desire in order to ensure not only that customers purchased your luxury timepieces but that they also kept coming back for more.
Richard is a big fan of motorsports, and he collects 1970s-era racing cars. His fascination with motorsports such as Formula 1 was integral to his development and growth of the Richard Mille brand. One of his first important strategic decisions was that he would produce timepieces in the same way teams produced racing cars – with total neglect of production cost and focusing on the use of modern production techniques and materials for maximum performance. True that "performance" for a car versus a watch is slightly different, but the concept was more than enough to propel Richard Mille to where it is today.
One of the main value propositions of buying a Richard Mille watch is that it grants you access to an exclusive club and that despite the price, no one offers more. Richard Mille watches start at around $80,000 USD and go up to several million dollars in price for some of their more exotic timepieces.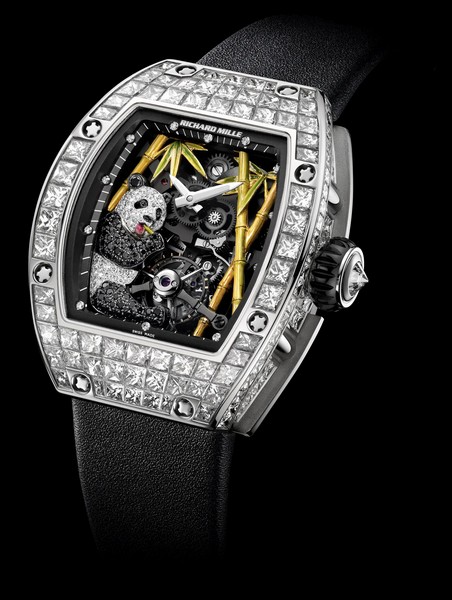 Richard Mille releases at least a few different $1,000,00+ watches per year, and the average price of one of their tourbillon watches ranges from about $500,000–$800,000. These are enormous numbers even by luxury watch standards – so a very common question by consumers as well as others in the watch industry is "why are Richard Mille watches so expensive?"
It doesn't matter how many people recognize that a Richard Mille watch is expensive, but rather that the right people will recognize it and know what it means. Therefore, maintaining a high price allows Richard Mille customers to authentically communicate their status in life as a function of having a certain (high) level of disposable income sufficient to drop this much money on a timepiece.
Richard Mille also authentically lives the lifestyle that the brand's products are influenced by. He travels the world to car and boat races, travels by private jet, which inspire his aviation watches, and hangs out with a long list of celebrity actors and athletes that wear his watches.
The most famous celebrity relationship Richard Mille has had is with brand ambassador Rafael Nadal. The world tennis champion made international headlines when he was spotted routinely wearing a Richard Mille tourbillon watch while professionally competing during tennis matches. World audiences were shocked not only that Nadal would choose to wear a seemingly unnecessary item that could impact his performance, but also that it was a several hundred thousand dollar timepiece. Watch enthusiasts were additionally compelled by the idea that the watch contained a tourbillon mechanism, which is known for its delicate fragility.
Confidence, playfulness, and authentic exclusivity together make up the special sauce that allows Richard Mille watches to be so expensive. The fact remains that you simply cannot get the precise Richard Mille experience in any lesser-priced product, and Richard Mille customers are comforted knowing that they aren't likely to see someone with their same watch who isn't equally as successful as they are.