Off the coast of Auckland, the 36th Challenge for the world's oldest international sporting trophy provided a thrilling series of match races through mid-March. Sailing spectacular, 75-foot, foiling monohull yachts, America's Cup Defender, Emirates Team New Zealand, racing their secretive, Te Rehutai, bested the Challenger, Italy's Team Prada-Pirelli racing battle-hardened Luna Rossa. The score of 7 to 3 match wins belies the closeness of the duel, with the first half of matches being even.
The 'first-boat-to-win-7' contest was sailed on three courses all in New Zealand's inner Hauraki Gulf, between March 10th and 17th. Unseasonably gentle winds of sub-10 knot most days, found both contestants at times challenged to stay on their foils, but also periodically attaining speeds over 40 knots when gusts blew through the course. The races were generally two per day, lasting approx. 25 minutes each – and were broadcast around the world, free to air on Sky Sports, NBC Sports, TVNZ, RAI, and Sky Italia, as well as on the America's Cup YouTube channel and Facebook page.
The first day of racing took place on March 10th and ended with one win each with New Zealand's Te Rehutai taking the first race and the victor of the Challenger Series, Italy's Luna Rossa taking the second. A scheduled rest day followed.
Race Day 2 saw Luna Rossa take an early series lead, only for Te Rehutai to equal it in the second race of the day.
Day 3 was the inverse of Day two; another win each. Six matches sailed had the series neck-and-neck at three races each. The draw endured through Day 4, when both boats attended the start line, only to have racing abandoned for lack of wind.
On racing Day 5, during the 7th match, Te Rehutai lifted the national spirit of NZ when she revealed superior boat-speed. Having lost the start to a quick Luna Rossa, Te Rehutai trailed for two legs. Then her speed differential of three knots on the upwind leg 3 allowed Te Rehutai to snatch and hold the lead.
Race 8 on Day 5 provided the most dramatic action. Trailing again from the start, Te Rehutai attempted to overtake Luna Rossa on leg 2, downwind in very light winds. Alas, its boat speed dropped, and as it did, Te Rehutai fizzled to a stop as it came off its foils. Team NZ grinders toiled mightily and finally regained flight but were a hopeless 2km behind as Luna Rossa had soared ahead on foils. Then Lady Luck intervened. The hitherto infallible, Luna Ross in rounding a mark only two legs from the finish also dropped off its foils, surrendering its handsome lead. This time Te Rehutai romped by, and suddenly, Emirates Team NZ held a two-race lead.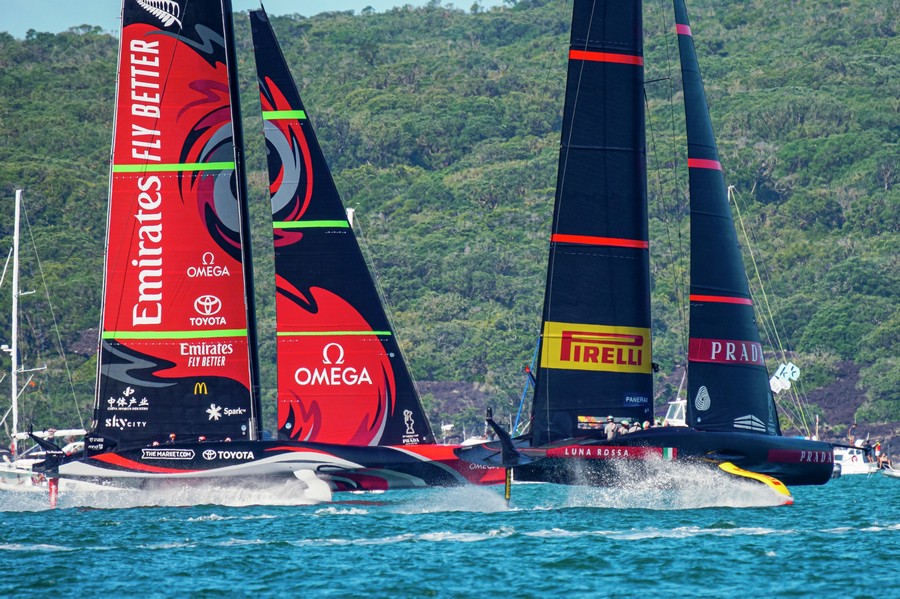 Race 9 was the first held on the inner harbour 'Stadium' course, where land-based audiences could easily observe the duel. Luna Rossa won the start, and led narrowly for most of the race, sailing 'elbows out' (yachting parlance for employing every technique to prevent the hind boat passing). On leg 5, Luna Rossa tacked immediately ahead of Te Rehutai, intending to bequeath them a wake of bad air. But Te Rehutai sailed away to the other side of the course, and in a puff of better wind stretched out to a 250m gain, taking the lead. Suddenly it was 'Match Point'. The second race of that day was abandoned as the wind direction was too variable.
In the 10th and Final Race on Race Day 7, Te Rehutai won the preferred side of the start, crossed the line doing 32 knots, and led at every mark to win by over 600m. The faster boat, defender, Te Rehutai had retained the champagne-filled, America's Cup at the Royal New Zealand Yacht Squadron. Job done! According to Jimmy Spithill, Helmsman of Luna Rossa, ""… at the end of the day, Emirates Team New Zealand was simply too strong. It really did feel, at times, like we were taking a knife into a gun fight."
Just two days later, it was announced Britain's Royal Yacht Squadron Racing, represented by INEOS Team UK, headed by yachting legend Sir Ben Ainsley and financially backed by British billionaire, Sir James Ratcliffe had been accepted as the Challenger of Record for the 37th Challenge for the America's Cup, commencing in 2023. Protocols will be published within 8 months; the venue is yet to be finalised, but the AC75 Class of foiling monohull will perform again.
Footnote: Team New Zealand's designer Dan Bernasconi claims to have just one regret from the winning the 36th America's Cup. That being that New Zealand never got to strut its stuff. "For sure, the boat loves the breeze. Upwind in 15-20 knots, it is an absolutely sensation".
About the Author
Norman Stacey, a sometimes sailor, is an Advisor to high net-worth investors on their portfolios. A veteran of 40 years in financial markets, Norman primarily resides in Auckland, and is a seasonal denizen of Hua Hin, with occasional forays to Canada.
Race Photos courtesy of ACE- Studio Borlenghi