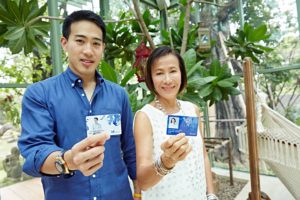 The Umpujh and Liptapanlop families have known each other for a generation.  Both have a love and an affinity for Hua Hin after spending much time there.  Both families became developers, the Liptapanlop family's Proud Real Estate developing condominiums, hotels, waterparks and a world class fitness facility and the Umpujh family's The MALL GROUP developing world class shopping malls such as The Emporium, Siam Paragon and the Em District in Bangkok.
So, it is only fitting that the two families would come together in Hua Hin and partner in a company called Hua Hin Asset Company Limited to build Hua Hin's newest and greatest shopping mall, BluPort.
HOT Magazine recently had the pleasure of sitting down with both Khun Supaluck Upmujh, Vice Chairman of The Mall Group and Vice Chairman of Hua Hin Asset Co. Ltd. in Hua Hin and Khun Pasu Liptapanlop, Executive Director of Proud Real Estate and Executive Director Hua Hin Asset Co. Ltd. in Bangkok to discuss the dream and vision that they had four years ago now known as BluPort.
HM:  Khun Supaluk, as the developer of such iconic shopping malls as Siam Paragon, Emporium and the Em Quartier in Bangkok, what are your thoughts on the opening of BluPort after over four years of work?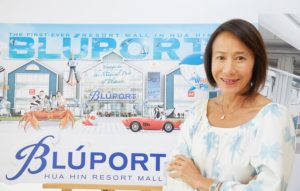 K. Supaluck: The Mall Group, as Thailand's leading retail developer, has once again outdone themselves and is ready to reveal the latest pride and joy, made possible by joining forces with the Proud Real Estate Company Limited, the BluPort Hua Hin Resort Mall, the first ever resort mall in Hua Hin. The project has committed over 5,000 million baht, and is located on the prime spot, at the center of Hua Hin, Prachuap Kirikhan, right across from the Intercontinental Hotel. The resort mall covers 60 rai, over 200,000 sqm., which has 50,000 sqm. allocated to the shopping complex, 25,000 sqm. allocated to the department store, and 100,000 sqm. for the parking lot that can accommodate about 3,500 vehicles.
The resort mall will be Hua Hin's new landmark that attracts both Thais and foreigners alike and marks Hua Hin as one of the dream destinations for tourism in terms of world class beach resorts. The opening of such a wonderful spectacle will also help bolster Thailand's tourism economy and solidify the country's status on the ASEAN platform.
HM:  Do you do a lot of market research before you build a shopping mall?
K. Supaluck: Actually, destiny came into play here. I've known Hua Hin since I was very very young, my family has a house here and I remember playing as a child here very well, actually even on this land where BluPort now sits.
Because Thailand is the number one tourist destination in Asia, this year we expect 30 to 35 million tourists, and Hua Hin has its charm, a very unique charm.  First you have the Heritage.  It is a place where King Rama 4, Rama 5, Rama 6, right up to our current King Rama 9 have palaces here and liked to come here.  You have the big Bangkok families that have houses here, a place where they could relax.  So I think Hua Hin has a lot of potential due to its unique charm.  There are a lot of condominiums, and the condominiums are expensive, many nice residential developments and hotels here but what they lack is a nice mall.  So with BluPort I believe we help make Hua Hin complete and to make it one of the top tourist destinations in Asia, that is my vision.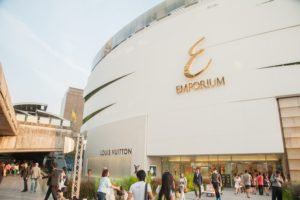 We built in Emporium in Bangkok 17 years ago when there was nothing in Thailand like it.  It was the first high end luxury mall in Thailand.  No one believed my vision but now today people say, "Oh, without Emporium and Siam Paragon, what would Thailand be?"
I had a vision back then like I have a vision today.  I'm not talking about one year or two years but three years or five years from now, what is Hua Hin going to be?  Why do the Scandinavians from far away like to come to Hua Hin?  They like to play golf, it's relaxing.  My sister has four condominiums here, one for her and one for each of her 3 children.  Her kids are still young but they are planning ahead.  There are a lot of reasons why Hua Hin has great potential.  One is its only 2.5 hours from Bangkok by car, you don't have to get on a plane.  The high speed train in the future, which will only take 45 minutes from Bangkok to Hua Hin.  With the BluPort Resort Mall, we want this Mall to become a destination and to raise the standard of living for people.  We have many great restaurants like Dean and DeLuca, we have Grey Hound, we have Coffee Club. We have all the brands like H & M, we have the Cinema we have the Whaley Port which is edutainment for kids so the family can come.
Let me give you an example, take Dubai, what is Dubai?  It is a desert but they built the city within 10 years.  It started with the Emirates Mall and the Dubai Mall and then the hotels come, the residential come, entertainment come and now it has become a tourist destination.  It wraps around the social life.
The reason I invest now is not one year or two years, it's the future.  The land belongs to us, it's freehold and you cannot find the location like this, right in the heart of Hua Hin, right opposite the InterContinental Hotel and just five minutes from the beach.
We call BluPort "A journey to the port of pleasure and leisure."  Pleasure is because you have happiness, leisure is because you have all kind of sports.  You have great golf courses, you can go swimming, you can go to Vana Nava, you can sail, you can play tennis at True Arena, you can do lots of sports here.
Currently Hua Hin gets six million tourists a year but it's no problem to up that to ten million tourists.  As when we built the Emporium in Bangkok, when we come there will be more development, more condominiums, more hotels.  And, people are living longer.  Hua Hin has been rated #7 in the world as a retirement place and rated in the top 5 of rising destinations within Asia.  So, due to all of that we believe BluPort has excellent potential for the future.
HM:  When you were planning BluPort, were there any stores that you thought we just have to have?
K. Supaluck: I think it was more about the style of the Mall. I couldn't just do an urban mall; it has to be more of a resort mall concept.  You will see it in the color schemes, the coconut trees.  We try to make it like a resort, you don't feel like you've come to the Mall.  We wanted to make it feel like a second home so you come here more often, you eat here, you drink here, you buy here, you bring your kids here, you hang out here.
My passion, my vision, my determination, together with Proud Real Estate Group, we really want to develop Hua Hin into a world class resort destination in Asia, that's the intention.  I think the people that live in Hua Hin, Cha Am, Phetchaburi and Pranburi will be happy with the way we have lifted up the city in a good way and we are proud to do that in the city of our beloved King & Queen and all of the Royal family.
HM:  Khun Supaluck, thank you so much for spending your valuable time with us.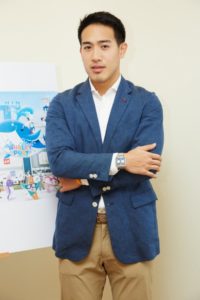 HM:  Khun Pasu, as a leading property developer in Thailand and one who has built extensively in Hua Hin, what made you think the time was right for a mall of this size in Hua Hin?
K.Pasu:  Proud Real Estate sees a great opportunity of investment in Hua Hin's tourism industry. Hua Hin is Thailand's most beloved resort town and has been tremendously popular among the high-end visitors for a long time. Thanks to its favorable geographic location as a link between the Central and the Southern regions, and a diversity of attractions, beautiful natural scenery and cultural arts, Hua Hin acts as a hub for Thailand's trade, commerce and investments in many sectors. With over 6 million visitors each year and more than 20,000 expats in town, Hua Hin offers hotels and resorts with over 16,000 rooms, side by side with a total of condominium projects both operating and under construction at 45,000 units. Moreover, the area will soon be supported by high-tech infrastructure systems like the Bangkok-Hua Hin High-speed Train and double-track railways. Through this direction of development in Hua Hin toward its role as an international tourism destination, Proud Real Estate is committed to extending its investments along with promoting famous attractions in the town and developing more mixed-use projects, such as InterContinental Hua Hin Resort, Vana Nava Hua Hin Waterpark, and True Arena Hua Hin sport complex. Among Proud Real Estate's key developments, BluPort Hua Hin Resort Mall marks a huge step of success in achievement of the company's vision. In a joint venture with The Mall Group, the BluPort provides more convenience with comprehensive lifestyle shopping for customers as it is located next to the hotel and beachside through a mere 5-minute walk. With the realization that the tourism industry is one of Thailand's strengths promoting income distribution to the local economy, Proud Real Estate will continue to invest in order to improve the tourism standards in Hua Hin and Thailand to meet global standards in future."
HM:  In the initial planning, were there any stores or brands that you thought we had to have at BluPort
K. Pasu: For me, it was the Food and Beverage part that was important. I think that's the reason most people go to the shopping mall now, maybe you could get food delivery, but it's not the same, as an example in this tea shop that we are sitting now with its nice decorations.  I felt we needed a decent amount of F&B outlets that were high quality but not high quality as in expensive that separates themselves from the majority of the people, otherwise you end up with a shopping mall with nobody in it.  The other thing that was important to me was that everything had to be planned for the future.
HM:  Traffic, from the moment word got out that Hua Hin was going to have BluPort, this wonderful shopping mall, people were asking how it will impact traffic.  What sort of plans have been made to handle this?
K. Pasu: I think one of the most annoying things for me, when I am going to the shopping mall, is the traffic. When you think, "oh my god, how long is it going to take to get there," when you can actually see the Mall and you are stuck in your car. What does a man have to do to go grocery shopping on a Saturday afternoon?  Which, by the way, is the worst time to go grocery shopping when everyone is there.  So I think we've tried to be very delicate with the situation.  At the end of the day we want the customers experience to be good and we have to consider the people who live around there as well.  So we've discussed with the department of highway people, both the police and the city have been very helpful when we were planning everything.  Every time we talk to tenants, and customers when we have the opportunity, we highlight the different ways they can come to BluPort.  For shoppers living that way, you can come down Soi 112, past MahaSamutr and take a back road that will take you to a very big car park, 24 rai of carpark space.  I think you will never have problems finding parking.  In addition to the 24 rai, we also have about 5 floors of parking in the shopping mall itself.  And we've really worked hard to manage the traffic flow.  We have worked with the police and hired our own traffic consultants to maximize flow and we have also redesigned, refurbished and improved the pavement all around the shopping mall.
HM:  Khun Pasu, do you see Proud Real Estate developing more Shopping Malls?
K. Pasu: We're actually working on another shopping mall venture in Phuket, again with the Mall Group, called BluPearl, although I think we will play a smaller role than we did in Hua Hin. There we will focus more on the Hotels were building along with the water park next to them.
HM:  This is off topic, but your personal focus within Proud Real Estate is more residential than commercial isn't it?  Such as Proud's Bangkok condominium project Park 24 and has that started yet?
K. Pasu: Yes, BluPort is the only project in Hua Hin I am involved in. In Bangkok I am focused on our Park 24 Condominium project where we're looking at transferring the first two towers to our buyers by mid-next year.  Six to nine months later we will transfer the other three towers with total condominium units at around one thousand two hundred.
HM:  That has to be Proud's biggest project to date, isn't it?
K. Pasu: Yes, by sales it is our biggest one. The total sales on that one, if we are able to sell everything, will be around seventy billion baht.
HM:  Khun Pasu, thank you so much for spending your valuable time with us.