On Monday June 18th, Bangkok based high society celebrity Khun Sumanee Guna Kasem and her entourage of 9 checked into the Amari Hua Hin Resort.  Joining Khun Sumanee was her son, Khun Vachiramond "Pu" Gunakasemtanawat.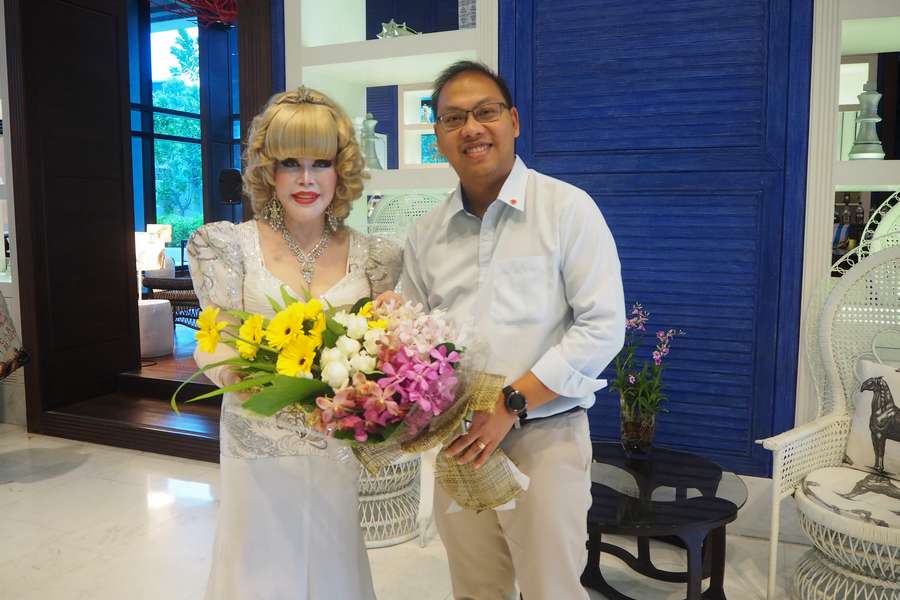 Khun Phanuphan Buasuang, the General Manager of the Amari was on hand to present her with flowers prior to her departure for the 2018 Mister National Universe Competition for which she is the honorary Chairwoman.
While staying at the Amari, Khun Sumanee sought out the name of their Chef  Khun (insert name) so she could personally thank him for the delicious vegetarian meals served to her room.
Even though she has a condominium in Hua Hin, it had been over 20 years since Khun Sumanee had visited the Royal Resort City.  In addition to owning a home she was also a major land owner before selling her land where the Blu Port Resort Mall now sits to its developers.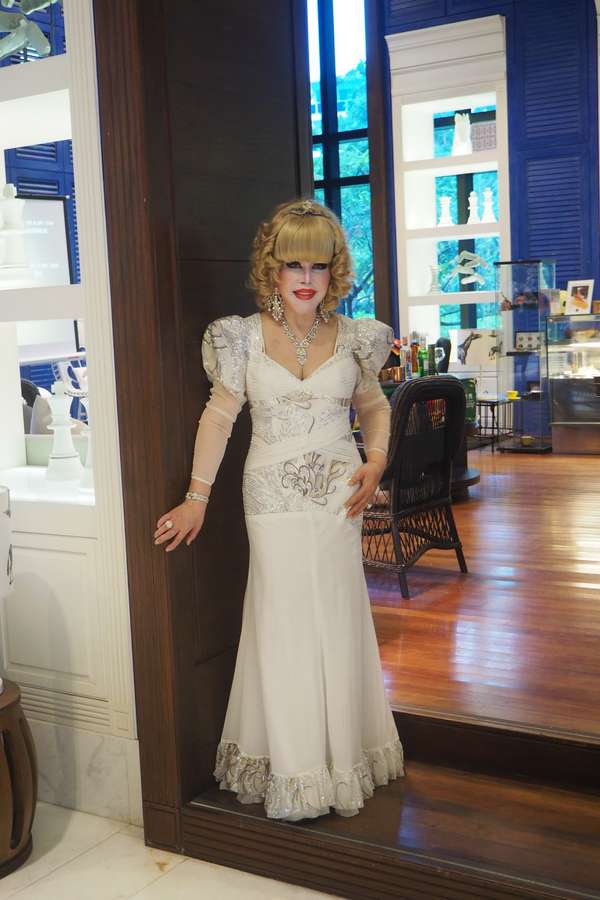 When asked why it had been so many years since visiting, she said that she works during the week overseeing her many businesses along with her foundation and that on the weekends she likes to Ballroom dance with her friends so there just wasn't time.
In addition to her business's and charitable work Khun Sumanee is also well known for being one of the most prolific collectors of antiques in Thailand. Her collection's value has been estimated in the billions of baht. The world's high profile auction houses know her well and she once famously outbid the Sultan of Brunei on a piece she had to have for her collection.
Khun Sumanee's father was a Thai Diplomat which gave her the ability to meet many interesting people and go to exciting places but it wasn't always that way.  She remembers living through the Second World War as a young child in Penang, Malaysia. She saw war as a child and had to grow up very quickly. During this time she remembers spending one whole week underground in a tiny hand-made bunker with very little to eat. She said, "For me, at that age, it was both exciting and terrifying."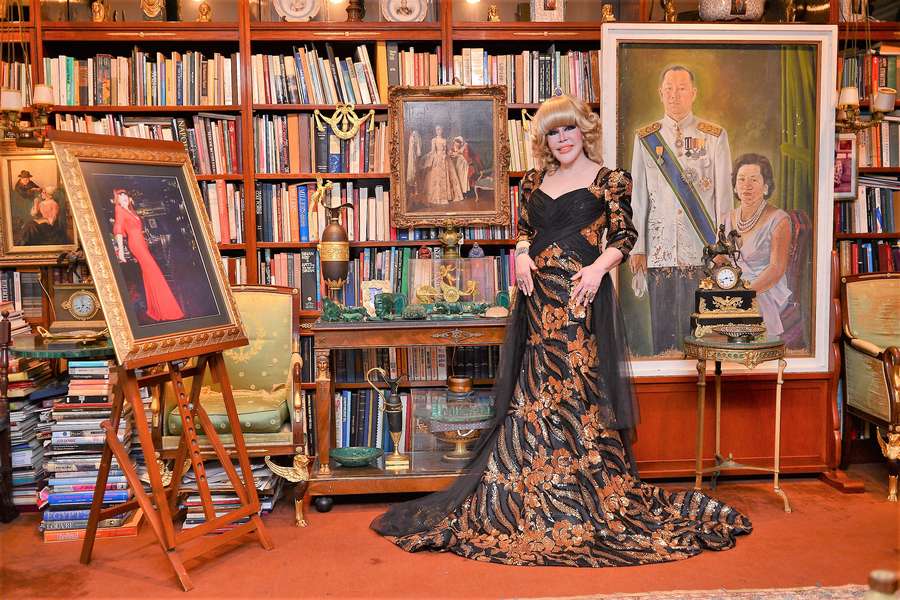 Khun Sumanee's husband, Pracha, was also a diplomat and they were posted to many interesting places around the world.  She says she loved every country they were posted too however her favorite was America where for six years her husband was Thailand's permanent representative to the United Nations.   She commented, "Normally, an Ambassador would spend 4 years at one post, but we stayed 6 years in what was then known as the capital city of the world, New York. I can simply say that it was the most exciting place to live, full of interest, always elegant, growing and much more formal than today. If you can picture the formality and elegance of a day gone by such as the reception scene in the movie My Fair Lady…always exquisite and total class."  While in New York Khun Sumanee got to know many icons of the day including Jaqueline Kennedy Onassis and Neil Armstrong, the first man to walk on the Moon.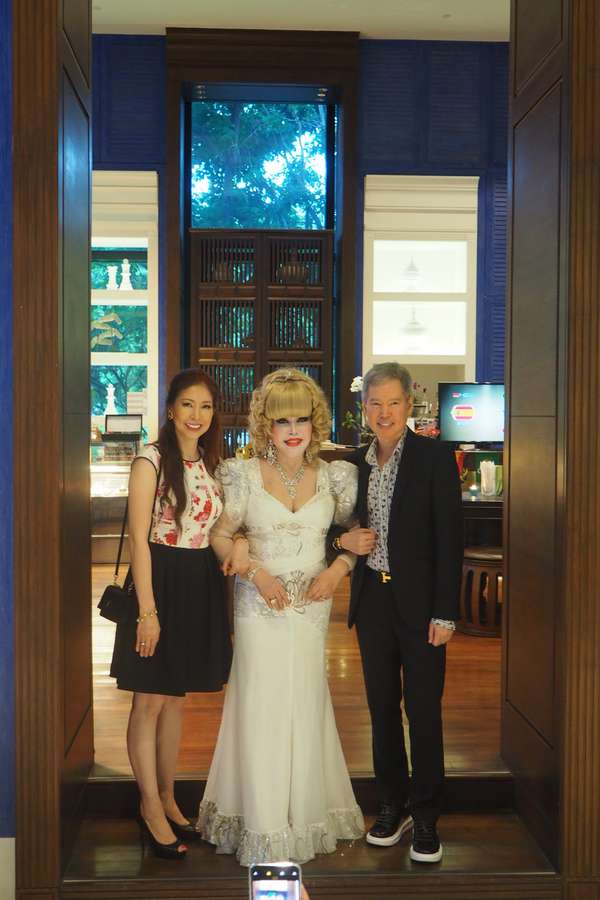 Upon giving birth to her son, King Rama lX named their son Pramond and in later years the King sponsored him to become a Monk.  Educated in America, her son returned to Bangkok with a master's degree and began importing luxury cars into Thailand.  He then went on to purchase land and develop condominiums in Sukhumvit and was also a three time elected democratic politician in Lad Prao, Bangkok.
A few years before her husband passed away they set up the Maneemoncha charity project which is a combination of both of their names. The foundation is primarily designed to further education, knowledge & experience plus provide scholarships for the less fortunate of the younger generation. The family said these issues were important to support because they believed they are the most necessary to further Thailand in a successful and prosperous way. As Khun Sumanee shared, "I was lucky in many ways as a child, I acknowledge that, and I wish to share my fortunes in a positive and respectful way. My father always said 'knowledge is the greatest treasure' and this is so true."  An animal lover like her father, the foundation also looks after 800 homeless dogs and cats.