Hua Hin's highest bar and one that can readily boast the most expansive city, beach, ocean and hinterland views is found on Holiday Inn Vana Nava Hua Hin's 27th floor. We're talking about Vana Nava Sky Bar. An ideal location to start or end your week with friends, celebrate a special occasion, have romantic pre-dinner drinks, a group night out, or a family sunset meal in the sky.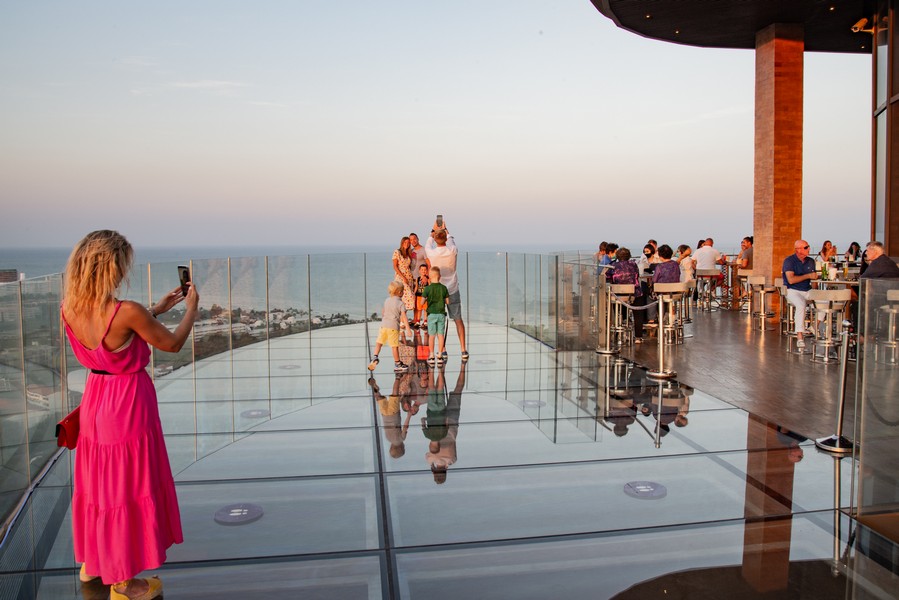 Step from the 27th-floor lift lobby and Vana Nava Sky Bar's clean, modern and slick design is immediately inviting, and those panoramic views are everywhere. To the right, a dining zone with a vaulted ceiling, gold mirrored decorative wall details, and a more traditional table and chair configuration. Turn left from the entry, and there is Sky Bar complete with half-circle banquette booths, casual lounge seating, and the open-air deck with high tables and bar height seats.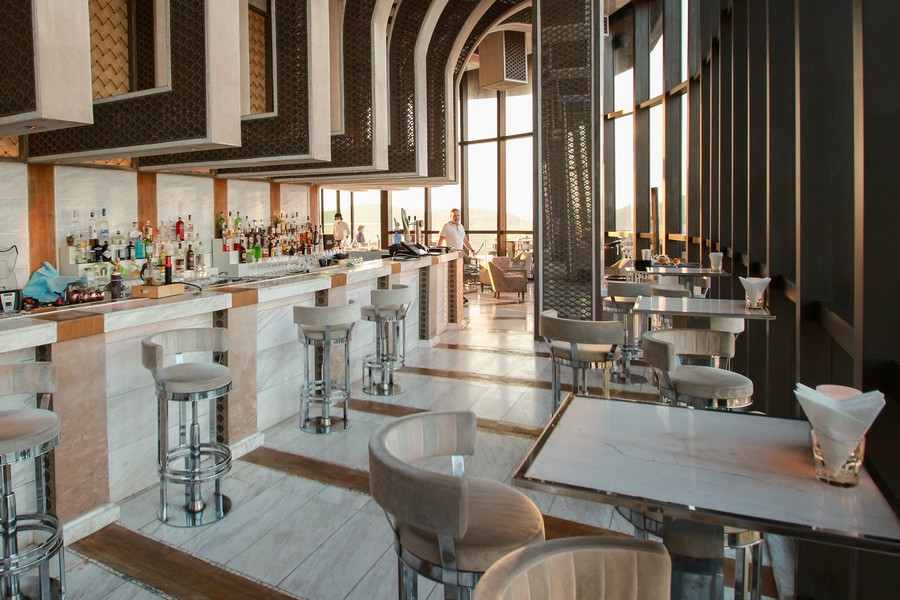 And to top it all off – the open-air glass-floored Sky Deck sweeps out from the building providing exhilarating ocean and district views. Spectacular panoramas at any time, though, it comes into its own as sunset approaches and then into the evening as city lights come alive. The Sky Deck is ideal for those unique selfies, group shots, or capturing Hua Hin from this sky-high vantage point. The resident DJ provides the beats to keep the vibe up and enticing for a relaxed evening.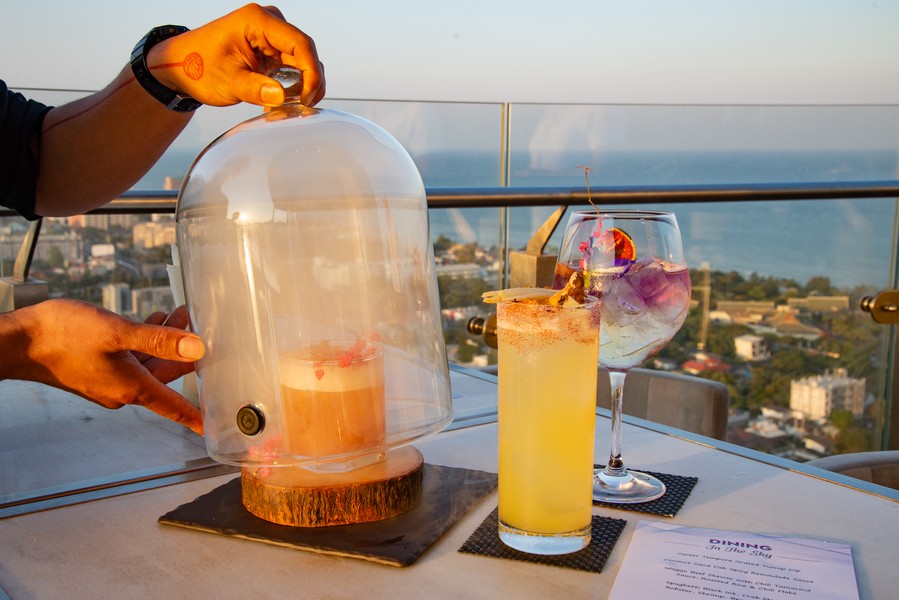 Vana Nava Sky Bar is undoubtedly about drinks from crafted cocktails and mocktails from their talented mixologists, draft and bottled beers, to wine and bubbles by the glass or bottle. To complement the selection of fine beverages is an equally appealing selection of food options designed to share.
Unlike a typical food menu that groups dishes from starters through, Vana Nava Sky offers headings like charcuterie, oysters, raw & rolls with sashimi and sushi as options, fried snacks, meat or seafood flavours, rice bowls, pasta, pizza, Vana Nava Sky signature seafood platter, and to finish, sweets. This provides excellent flexibility from snacking and sharing to the more traditional one, two or three-course dining. All matched with quirky and creative cocktails or your preferred beverage.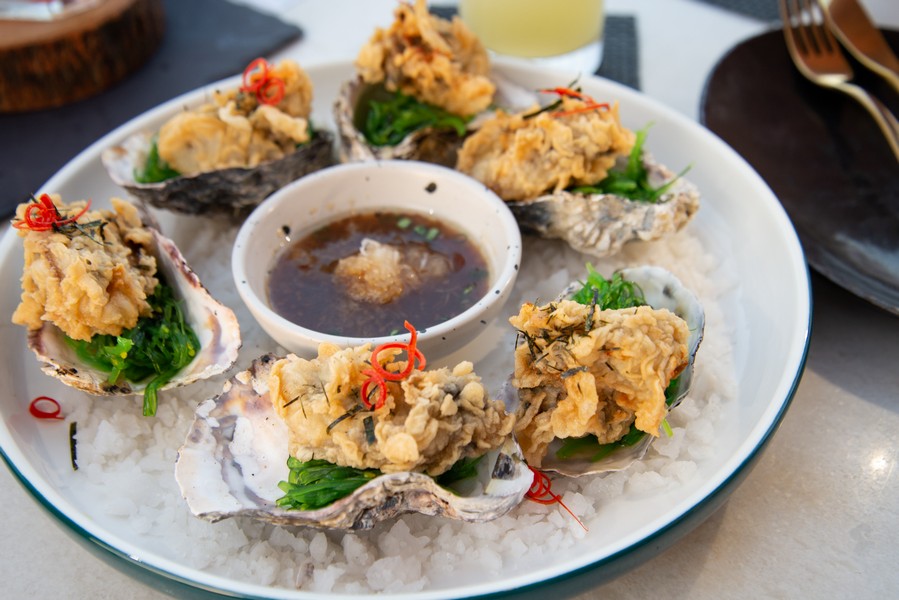 Our menu exploration started with Tempura Oysters – six Pacific oysters served on the shell atop a fresh, crisp seaweed salad with sesame oil hints with a dipping soy sauce and grated daikon. An oyster lovers delight. We also shared the Sand Fish (Pla Sai), which could also be known as Thai whiting. Crumbed and crispy fried petit fillet of fish topped with shaved coconut accompanied by a spicy remoulade sauce. Remoulade is a mayonnaise-based sauce of French origin and is often featured in Louisiana cuisine, given the French colonial history and ideal with our crispy fish.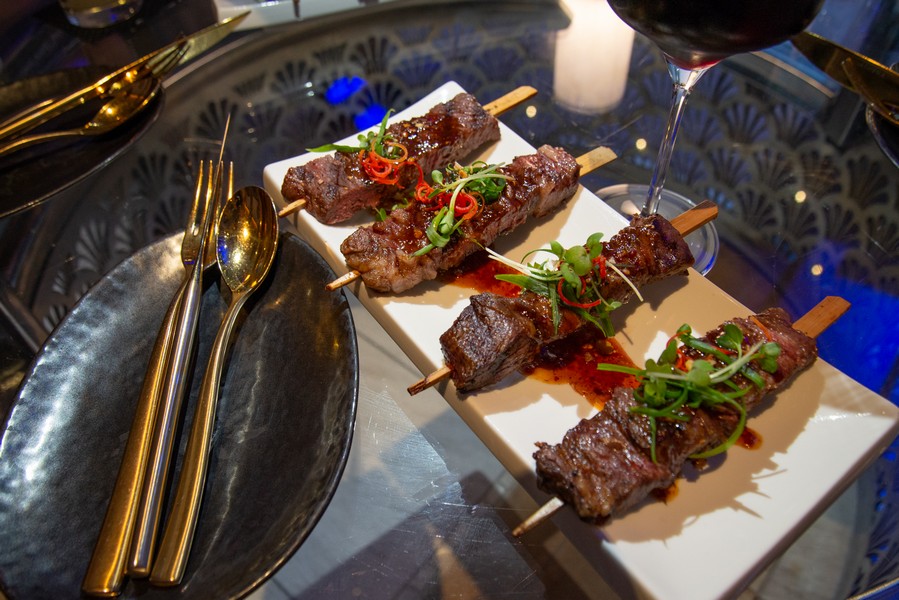 Next, we shared the Wagyu Beef Skewer. Four spears of cubed Wagyu beef grilled to our liking and drizzled with a tamarind sauce. Spicy yet slightly sweet overtones, the sauce worked well with the deliciously tender caramelised beef. And all topped with delicate microgreens, adding some salady freshness to each mouthful.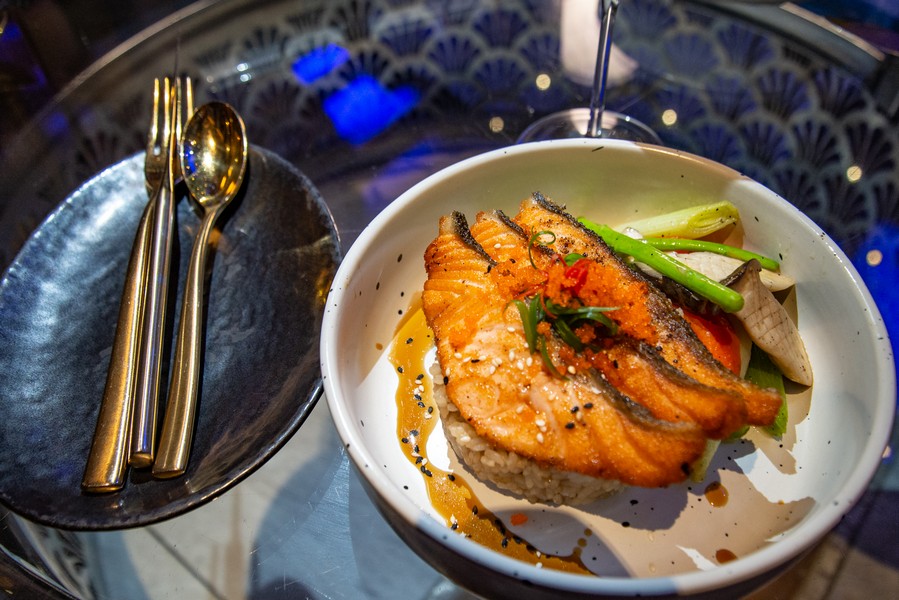 From the rice bowl choices, we settled on the Salmon Fillet. A filet of this rich pink fish is sliced thinly, grilled and served upon rice flavoured with sweet sesame or teriyaki. All accompanied by pan-cooked asparagus and spring onion spears, sliced king mushrooms and carrot crowned with salmon roe as the final indulgence.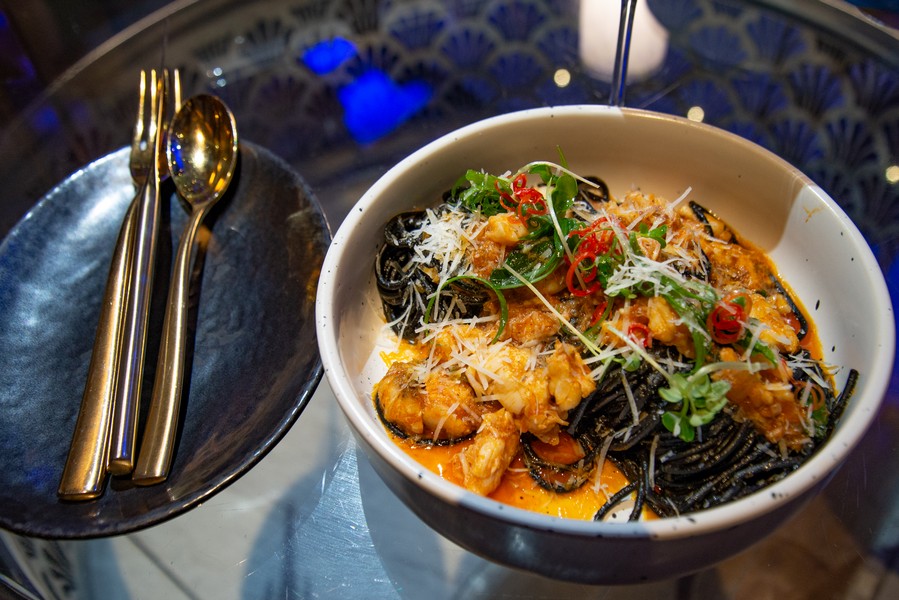 Our final savoury dish was the Spaghetti Black Ink. Rock lobster, crab meat and prawns with a bean paste, pepper and basil sauce. Luscious squid ink coloured and flavoured pasta topped with a delicious, balanced seafood symphony—a definite shared favourite for your group. All the sampled dishes were presented in an eye-appealing and taste-tempting fashion. Forget any dismissive thoughts of 'bar food' because this was sky-high gourmet dining which we enjoyed shared or family-style.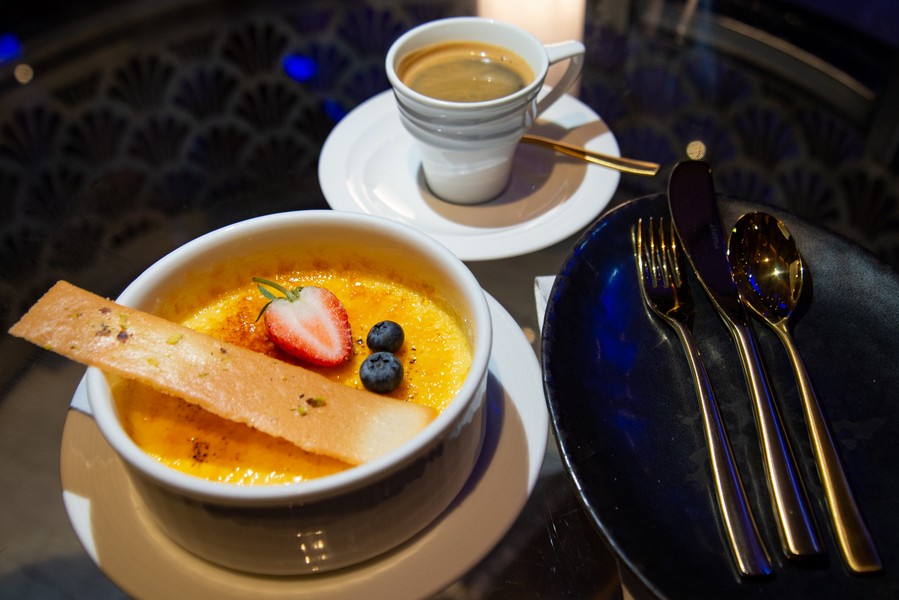 Vana Nava Sky's dessert is limited to three choices, and all are crowd-pleasers. We sampled two of the three, starting with the Crème Brûlée. The generously portioned Vana Nava version of this classic French dessert is made with coconut cream with hints of ginger instead of the typical heavy cream. This baked custard with its caramelised crunchy sugar top was a delight. A pistachios tuile round out this plate of pleasure.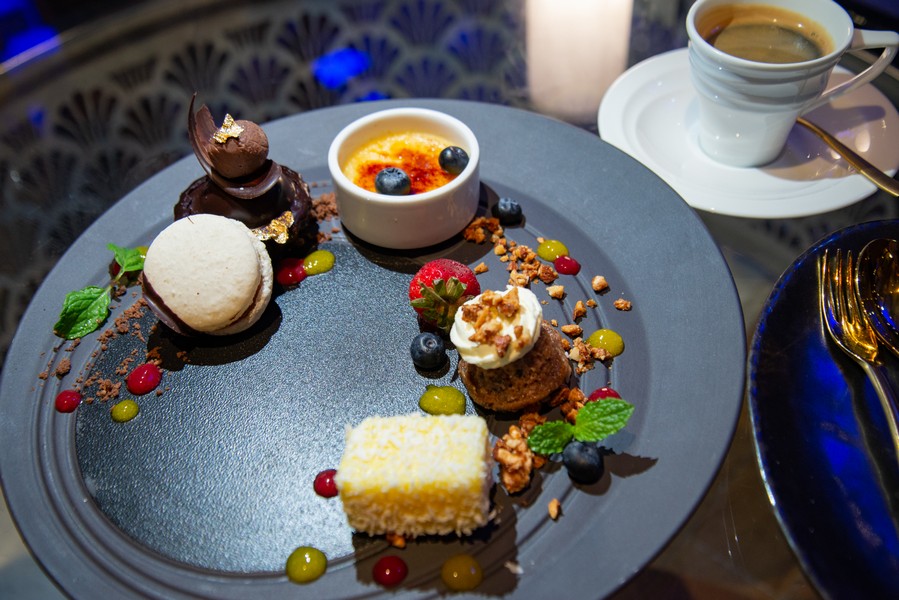 Our final dessert was Café Gourmand, a quintant of miniature sweet treats happily sharing a plate. It included a petit sweet olive cake, macaron, coconut covered lemon curd bar, chocolate mousse tartlet and mini crème brûlée. A fitting end to our sky high meal! And as is the Vana Nava Sky style, desserts come with complimentary tea or coffee.
Vana Nava Sky Bar operates from 5 pm to 11 pm, with alcoholic beverages served until 9 pm as per the current restrictions. Food orders can be made until 10.30 pm. These trading times may vary once past the present government restrictions ease. To check details for Vana Nava Sky Bar's hours or to book for your group or special occasion, call +66 32 809 999 or visit www.vananavahuahin.holidayinnresorts.com
Vana Nava Sky Bar is the ideal venue for all your sky-high gatherings and special occasions.
By Michael Cullen