"Strength does not come from winning. Your struggles develop your strengths. When you go through hardships and decide not to surrender, that is strength." Or so said Mahatma Gandhi, and this quote is very relevant to the owners of Zafferano'94 Italian Restaurant on Hua Hin's eat street, Soi 94.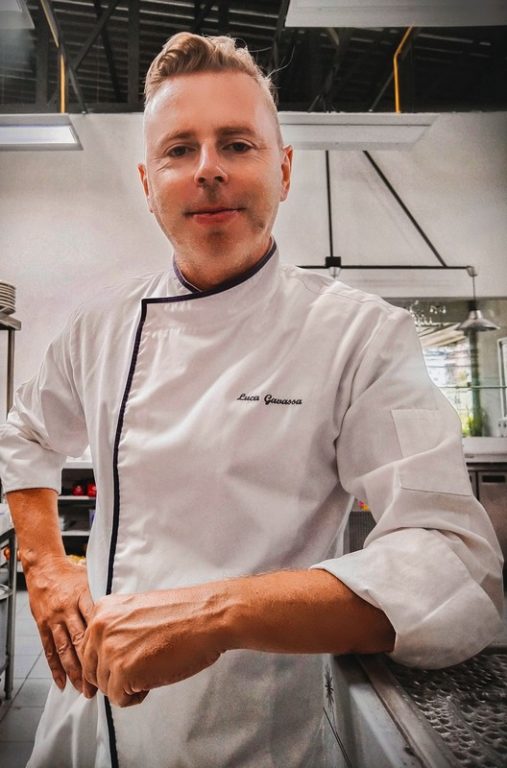 Italian nationals and business partners Davide Luzatello and Luca Gavassa had worked together on Koh Samui since 2010 and were looking for new opportunities and a change of scene. Having checked out Hua Hin in late 2019, they decided to move and start a new restaurant here. A site on Soi 94 was secured, and after much planning, in late April 2020, they were ready to open. Unfortunately for them, Thailand's mandatory Covid lockdowns were introduced at precisely the same time.
The excellent news for Hua Hin's dining public is they were able to weather the hardships thrown their way during the pandemic. They are now building a reputation for exceptional Italian Cuisine in a town with its fair share of Italian eateries. Davide runs the front of the house while Chef Luca delivers his fine Italian fare from a regularly changing dinner menu.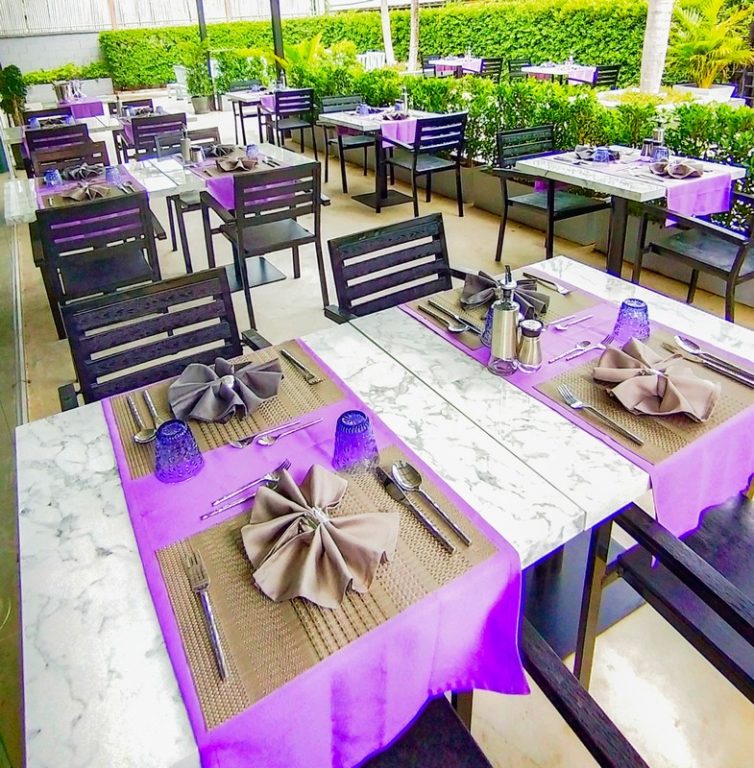 Zafferano is the Italian word for Saffron, and the exquisite luxury of the world's costliest spice by weight attracted them to the name. The light lavender to a deep royal purple of the saffron flower petals and precious scarlet stigmas from the flower's centre play out in many ways with the restaurant's colour scheme, including on diners' plates. Zafferanos offers a relaxed undercover alfresco dining terrace and an air-conditioned dining room where you can watch the kitchen's action through the glass separating panel.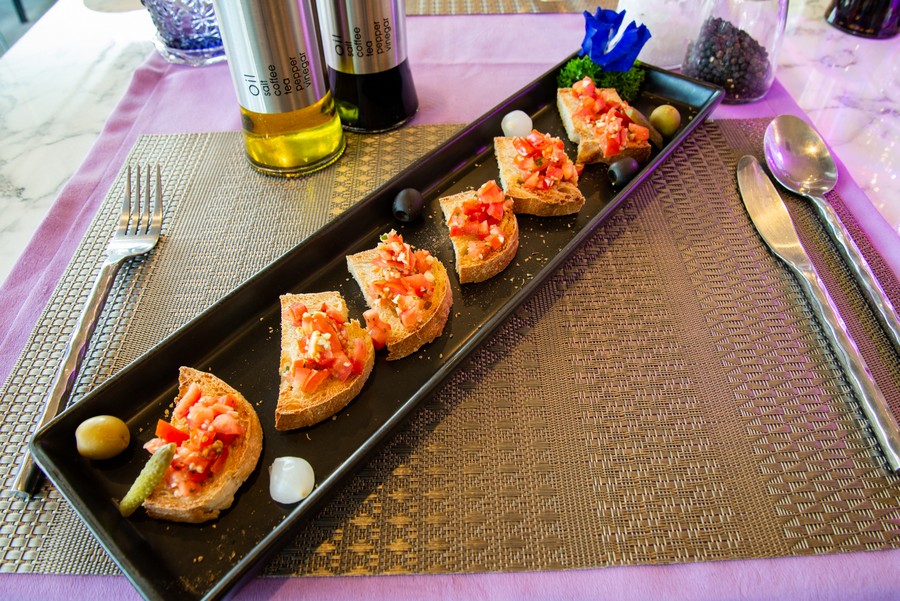 Our Zafferano food journey started with a complimentary sharing plate of Bruschetta with tomato. Davide explains that this is an everyday practice though the actual Antipasto changes depending Chef's desire. Our table shared two appetisers from a well-curated and not overwhelming selection.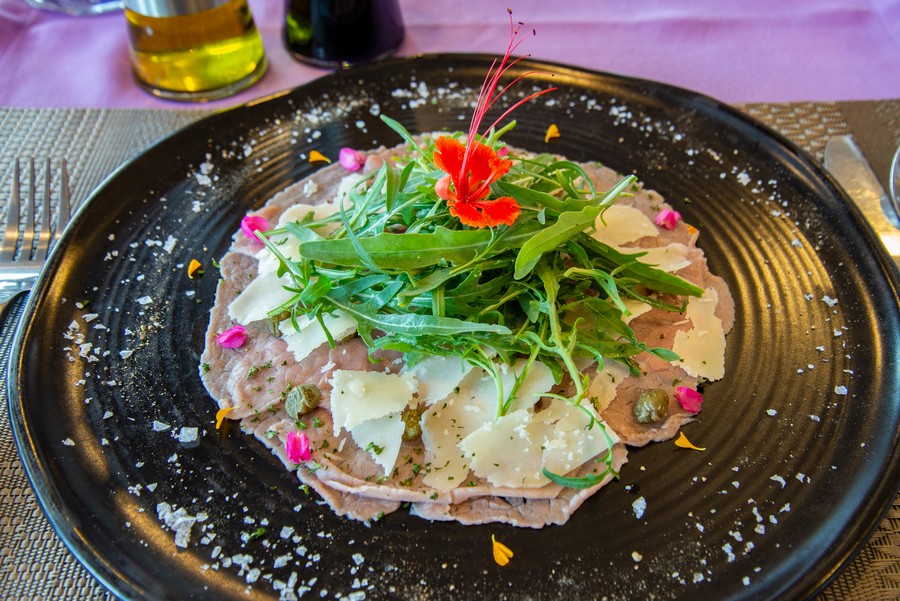 First, a classic from Chef Luca's home region of Piedmont – Veal Carpaccio. Wafer thin veal lightly cured in lemon with peppery rocket, the bite of caper berries, rich creamy and slightly nutty and salty Grana Padano cheese finished with a light spray of white truffle oil. The Chef's rendition of Shrimp Cocktail has all the ingredients on the plate, though as individual elements allowing the diner to mix the crisp lettuce with some warm grilled prawns and classic cocktail sauce. Both dishes were a great introduction to Zafferano's classic yet refined Italian Cuisine.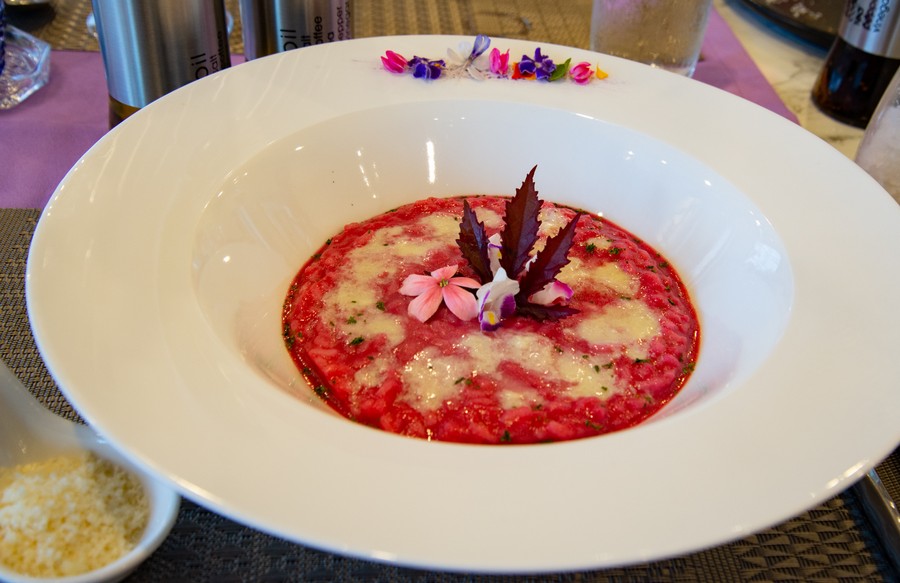 Next is the Pasta (entrée) course, and we sampled three outstanding dishes. Risotto has two choices – a beetroot risotto with Gorgonzola or risotto with porcini mushrooms. We went with the earthy sweetness of the beets, the creamy rice, and the rich, salty bite of the blue cheese. A great marriage of flavours. Chef's fettuccine with lobster and clams – pearls of lobster meat in a tomato and seafood stock-rich sauce with hints of pepper was a triumph. Polenta gnocchi with a saffron and mascarpone cream rounded out our entrée. The carefully selected edible flowers on the dish, which we were encouraged to eat, added a tasty extra dimension to the plate.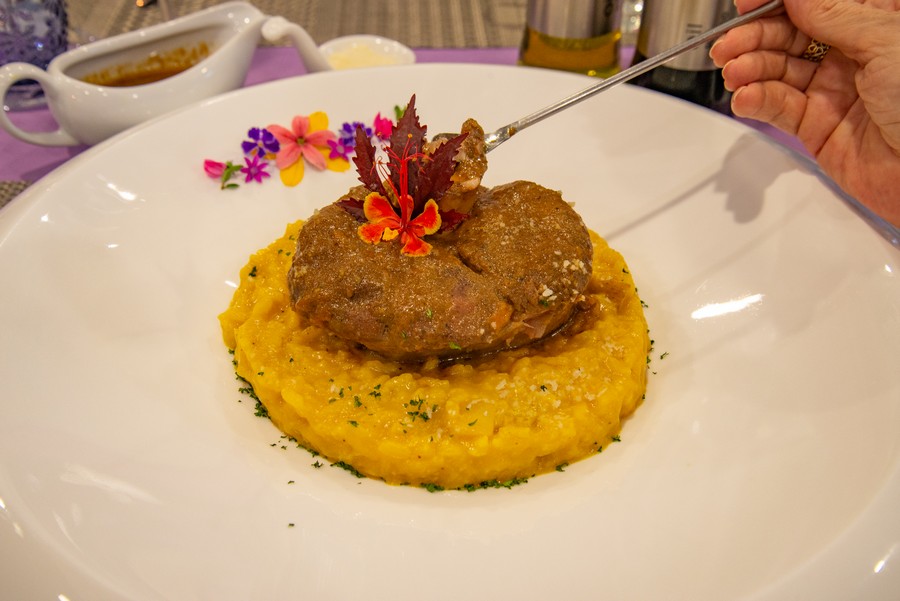 Eight main dish choices are currently listed, with two being seafood. Our table chose the highly popular with Zafferano diners, Ossobuco alla Milanese. A classic of Lombardy, veal shanks slow cooked for 28 hours and, as is the tradition, served atop risotto alla Milanese. Fall of the bone, rich and tender veal, bursting with meaty flavoured sauce reduction from the cooking marinade, and creamy parmesan rich, saffron-infused risotto with hints of porcini and truffle proved to be outstanding plate fellows. As one of our party described, "Complex, with bags of flavour. In summary – Banging."
Zafferano's menu has a section dedicated to Pizza, where diners can build their own from the picture menu. The family-sized Roman-style Pizza starts with tomato and mozzarella, and you choose your favourite toppings. Our table appreciated this concept as we were not constrained by the usual pizza combinations. The end result was outstanding, as ordered.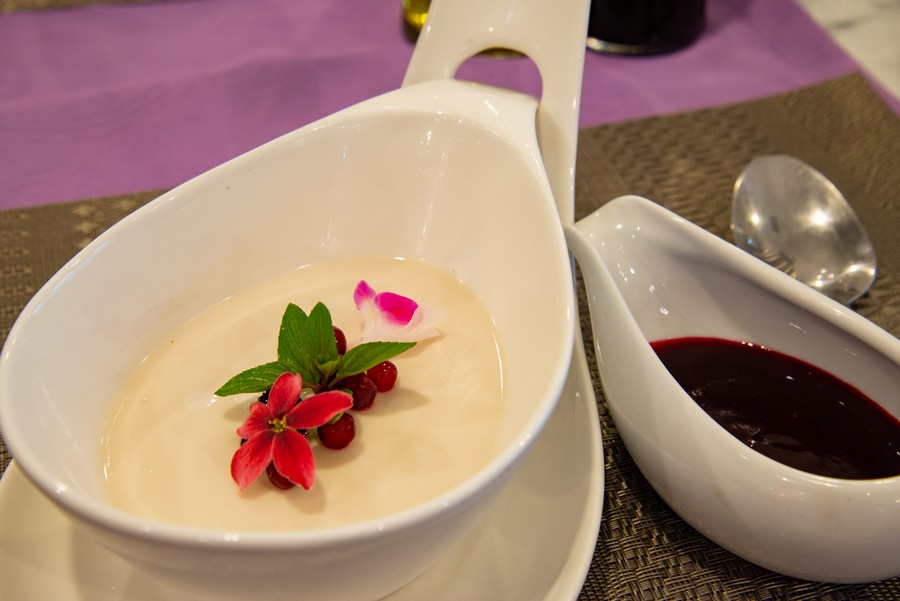 There are three classic Italian choices for Dessert, plus Hua Hin-made Bella Dolce ice cream. We sampled the Panna Cotta – smooth and creamy with the vanilla tones topped with a smattering of cranberries for a zing and accompanied by a mixed berry coulis. Chef's Tiramasu is served rustic style and made with his special vanilla custard, lashing of cocoa on top, and dark chocolate drops around the side for added indulgence.
Zafferanos offers a simpler Pranzo or Lunch menu for a price ranging from 200 to 300 baht, depending on your choice. The lunch offer includes a main dish, a glass of white or red wine or on-tap Lao beer, and an espresso-style coffee to finish. The main choices range from a substantial Salad, Pasta dish, Bruschettone, or Pizza. Outstanding value from our first-hand experience.
Created with the equal passion demonstrated by Chef Luca is Zafferano's wine and drinks list, which Davide oversees. Unless you are intimate with the Italian regional wines, I suggest you allow Davide to guide you as you are in very safe hands. There is also a good selection of wine by the glass. And with eight choices in the Grappa selection, we found Davide's insights very rewarding. The casual open-air lounge area is ideal for those pre or post-meal drinks.
Zafferano restaurant operates Tuesday to Sunday from 11am to 2 pm and from 5 pm to 9:30pm for meals. Stay for after-meal drinks or drop in on Saturday evenings to enjoy the resident duo and their live jazz. You can find Zafferano'94 on Facebook or telephone 065 356 3740 for enquiries and reservations.
Zafferano'94 restaurant is an outstanding addition to the Hua Hin dining scene. Reward yourself with a visit while rewarding owners Luca and Davide for their perseverance and resilience in the face of (Covid) hardship.
By Michael Cullen