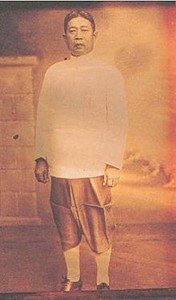 Lert Sreshthaputa, also known as Nai Lert was born in 1872 and was known as Thailand's first and foremost developer, investor as well as preserver of Bangkok's environment. He was royally bestowed the title "Beloved
In the year 1894, at the age of 22, Nai Lert started an imported goods business called Nai Lert Store and among other products offered the first ice to be made in Thailand. The distinguished Scholar Phraya Anuman Rajdhon would later on describe the exciting novelty of ice as "Most people who had never seen it refused to believe that there was such a thing as frozen water. Ice had to be put on a tray and exhibited for the people to see at a museum, some people even asked to take small cubes of ice for those at home to see.
Though Nai Lert continued to make his headquarters near the original shop, he soon expanded into other businesses. One was a guesthouse called the Hotel de la Paix thereby creating the first hotel property of the family business. Nai Lert also expanded his business into a transportation and real estate empire. He introduced the first bus services in Thailand in 1907 to serve Bangkok commuters and later expanded the business into the first taxi service using imported cars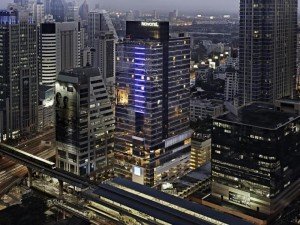 Nai Lert was also at the origin of the development of the Ploenchit area where he acquired a large piece of land in 1915 and created one of the first developments in Bangkok by master planning the area and selling off parts of the land as individual plots including the existing British Embassy site on Ploenchit which was sold to the British Government in 1922. Nai Lert also built the tallest commercial building in Bangkok in 1927.
A few months after the end of World War II, Nai Lert died leaving his business empire to his wife and his only descendant, his daughter Thanpuying Lursakdi Sampatisiri. His legacy included a real estate and hotel group operating several office buildings, retail centers and a hotel in Bangkok, the Swissotel Nai Lert Park.
It was at Nai Lert's 5-star Swissotel Nai Lert Park where we recently had the pleasure of staying for several days. The distinctive low-rise hotel is ensconed in 3.2 acres of lush tropical surroundings and is part of Khun Nai Lert's original Ploenchit development.
With legendary Swiss efficency coupled with well-renowned Thai hospitality we were truly pampered the moment we walked thru their doors. The hotel boasts 336 luxuriously appointed guestrooms and suites, all with balconies and ranging in size from 36 square meters to 206 square meters for their Royal and Presidential Suite.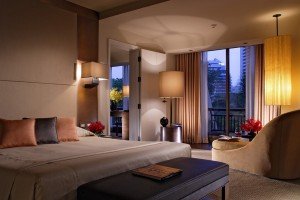 We booked into their 80 square meter Alcove Suite that was very spacious and comfortably appointed. The lounge and the separate en-suite bedroom were about equal in size and both had deck's looking over the garden. A state-of-the-art entertainment system and in-room business technology made our stay both relaxing and productive. The alcove suite includes access to their Swiss Executive Club Lounge which offered Coffee, tea and soft drinks throughout the day and lunchtime snacks. The evening cocktails and snacks lasted two hours and drinks included cocktails, wine or beer.
The hotel has several restaurants and a coffee shop bakery. ISO is their international restaurant where daily breakfast is served.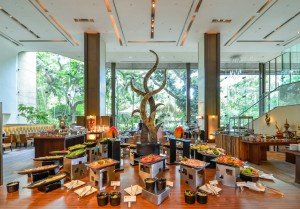 ISO's beating heart is its long and varied buffet line and nearby islands. The appetizing course is punctuated by several live cooking stations that vary in their focus from day to day. All centred around the restaurant's main theatre kitchen and service points. Conceived, designed and executed in such a way as to optimise each individual's dining pleasure, ISO is complemented by an international team of passionate chefs whose specialties range from Thai palace and street-style classics to iconic Swiss dishes with everything in between: sumptuous seafood, succulent grills and roasts, creative salads and antipastos, Chinese and Japanese delicacies, and divine desserts. Add to this typically Thai, gentle yet attentive service, and it is no wonder that ISO holds a unique status in the hearts of knowing locals and travelers alike.
Sunday Brunch is served from 12:00 – 15:00 hrs and offers guests the opportunity to enjoy special alcoholic and non-alcoholic drinks packages with their meal. International buffet dinners are served Sundays to Fridays from 18:00 – 22:00 hrs while an indulgent barbecue that makes use of the garden on Saturdays is served from 18:00-22:00 hrs.
Located on the Ground Floor of Swissôtel Nai Lert Park you'll find their Noble House Restaurant which offers authentic Chinese fine dining. Lunches are filled with definitive dim sum presentations added with varying soups, rice and noodle dishes and other specialties, with an extra extravagant presentation every Saturday. Evenings invite diners to explore subtle and sumptuous flavors selected for their intrinsic culinary value and perennial popularity accessibly arranged on a comprehensive a la carte menu.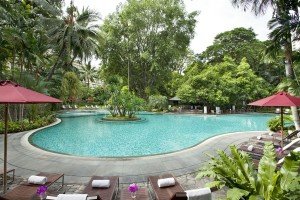 Within the hotel you will find the Amrita Fitness and Health Cente which offers state-of-the-art fitness equipment with individual televisions and personal trainers on hand to assist you. Aerobics and yoga sessions are available as well as competition-standard tennis courts, an indoor squash court steam rooms and saunas. Signature treatments are also available from their spa.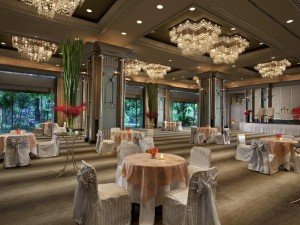 Swissotel Nai Lert Park is one of Thailand's leading business hotels, with state-of-the-art meeting and conference facilities. The hotel offers endless options for events of every description. A total of 10 meeting and conference rooms on the ground and lobby floors provide 17,150 m2 of prime meeting space. With magnificent views of the garden, the 652-sqm ballroom is the ultimate choice for any celebration, seating up to 800 people. The event management team is on hand to assist with room selection, layout and services.
Nai Lert Park is easy walking distance to Central's Embassy shopping mall and the the Ploenchit BTS station. Swiss efficiency and Thai hospitality, a great combination and one you should experience on your next trip to Bangkok.
Swissotel Nai Lert Park
2 Wireless Road, Bangkok
+66 (0)2 253 0123
Bangkok-nailertpark@swissotel.com