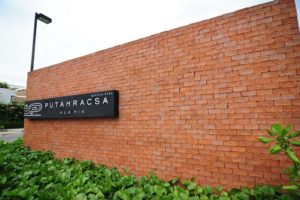 The Putahracsa Boutique Hotel in exquisite Hua Hin is a long-established & renowned destination for the weary traveler … or can be an oasis of calm for those already in the city.
The Putahracsa Day Spa practices a balance of traditional theories and modern techniques, creating treatments that align­­ the mind, body and soul. This unique balance is fused into the heart of the Putahracsa Resort, allowing guests to have the Day Spa experience throughout the facility. The experience includes either in-room or on-site spa treatments and remedies. Using ancient sources of nature and natural products, Putahracsa Day Spa ensures each treatment is an individual, sensory experience.
The Spa is open from 10am to 8pm Daily, but outside hours can also be arranged.
The Spa offers the normal range of treatments, as well as massage packages for Couples or for those inclined to self-designed. Prescribed massages are sufficiently varied to meet the desires of the most discerning patron. In addition, there are sun recovery treatments and scrubs of various types: each catering to the individual's tastes or requirements. And Patrons hands and feet are catered for with expert massage, pedicure and manicure services.
Putahracsa Day Spa's wide and varied range can accommodate most all budgets. Prices are specific to each choice or service, and are fully detailed on the comprehensive website: www.putahracsa.com/dayspa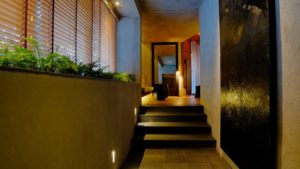 The Spa facility itself is located on the inland side of the Putahracsa Hua Hin complex, housed in a separate building, proximal to the appealing open air lobby with its adjacent parking.
The Spa is tastefully decorated in muted shades of brown with golden sunlight providing dappling accents to the decor. The Spa rooms are spacious and immediately appeal to all the senses.
It was my extreme pleasure to visit the Day Spa and to be able sample just one of the many treatments available..
We had selected the Tom Yum Massage Ritual which is a 90-minute Treatment. The Tom Yum is also Putahracsa's signature treatment, utilizing only natural ingredients – as used in spa remedies of ancient times – now rediscovered and worked into the Day Spa's new and modern techniques. A key ingredient is extract of Lemongrass, widely recognized as a natural skin toner, in an application that exfoliates and purifies while leaving the skin energized. A unique massage applied with a warm, sea-sand pouch, infused with lemongrass and kaffir-lime oil, stimulates blood circulation and relieves muscles soreness. Lemongrass and kaffir-lime together a just so quintessential of Thailand.
On arrival for our appointment, we were met by Hostess and Spa Manager, Phadungkhwan Niamngern (Took), who explained to us our imminent treatment over a refreshing, cool drink of Lemongrass and Pandanus tea. Following our refreshing drink, we were introduced to our Masseuses – including the lovely and talented Nueng.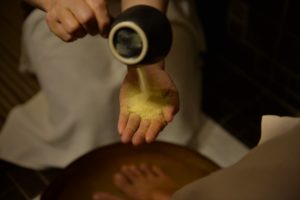 Nueng was professional and knowledgeable, with a willingness to practice and sufficient understanding of English to readily overcome my limited Thai. Nueng is a Hua Hin local, trained in her craft at Thai Massage School, with additional training provided by Putahrasca.
My friend and I were each to our respective individual treatment rooms, of which the immediate sensation is one of serenity and deep relaxation. Street clothes were exchanged for the traditional knickers, as one of the most sublime experiences of my life began.
The treatment commenced with a total body scrub – at the same time both stimulating and soothing – and with the promised lemongrass extract exfoliating and cleansing my skin. This was followed by a warm shower, necessary to remove the debris from the skin. Next came a massage of the entire body with the welcome lemongrass massage oil. As each portion of the body is completed a warm sea-sand pouch containing lemongrass and kaffir lime is applied to the area. The sensation is hot and yet soothing, serving to draw out and dissipate accumulated aches and pains, and opening the pores to envelope the lemongrass oil from the massage. The hot sand compress also serves to stimulate one's circulation; a technique both rejuvenating and relaxing. The whole, indulgent experience is akin to being another space and zone of sheer enjoyment.
It ended all to soon; the 90-minutes of sheer bliss passed so quickly. But it is an experience I would recommend to one and all. And Putahracsa has so many other treatments to sample.
At the completion of our individual treatments, my friend and I reconvened in the lobby to enjoy a delicious ginger tea that seemed. Even Putahracsa Day Spa's tea is exceptional; made fresh on-site each day from smashed ginger, boiled in water for 2 hours, special ingredients added and served tepid. This remarkable tea is not sweet, but is complemented by small dried papaya treats coated in sugar. Together, they are a taste sensation to be treasured and remembered.
At the completion of the treatment at Putahracsa Day Spa, both participants were unanimous the experience had been as wonderful as it was memorable & beneficial!
Hot Score: Loved the total experience. Impeccable facility and good value for money. Affordable to the more comfortable traveler, and well worth every minute and every Baht. Most indelible memory was the great use of Lemongrass essence – observed by and admitted lemongrass addict. (The stuff is as good for you outside as it is internally!). junkie. The warm sand compresses locate, ease & dissipate more aches than you knew you had. Emerging from Putahracsa's Tom Yum Massage Ritual is to be emerge rejuvenated, healthier and surrounded by a subtle lemongrass aura. 10/10 Putahrasca Day Spa.
PUTAHRACSA HUA HIN
22/65 Naeb Kaehat Rd. Hua Hin,
Prachuabkirikhan 77110
Tel: +66 (0) 3253 1470
Fax: +66 (0) 3253 1488
Website: www.putahracsa.com