Stepping out of the elevator onto the sixth floor, the friendliness of the welcome and the immediately warm ambience allayed any concerns that my visit to the Tea Tree Spa would be anything but relaxing. The floor to ceiling windows covered with translucent blinds softening the light while still providing outstanding views of Khao Takiab and the beach below. The light timber tones of the floor and feature walls add to the comforting vibe.
My welcome continued with a cold towel, chilled pandan juice and a delicious morsel of dried tropical fruit while my Greeter had me complete a consultation card with my preferences for the treatment and enquiring about allergies or specific medical issues they needed to be aware of.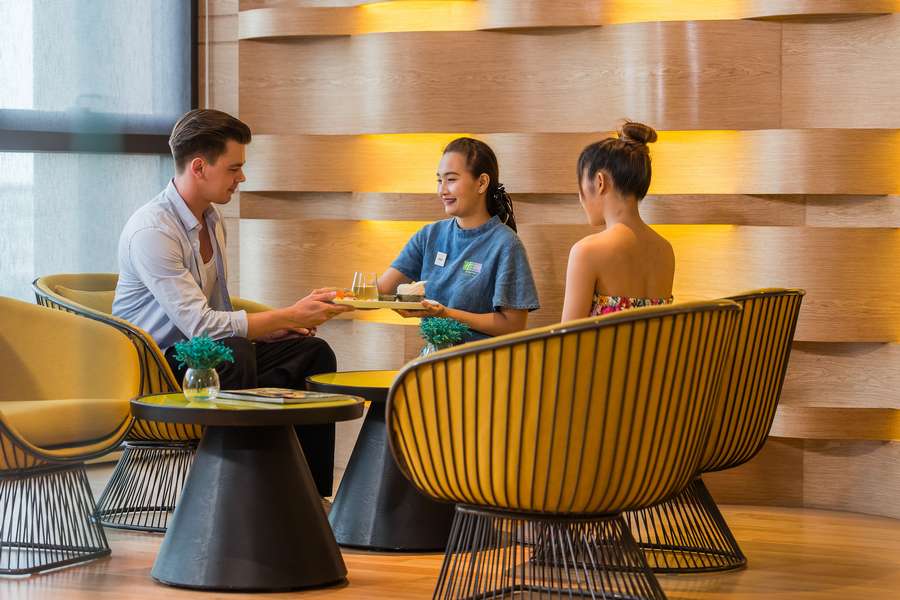 Having felt like a pampered, I was taking advantage of the Tea Tree Spas 'Happy Hour' promotional offer of an hour long Signature Aroma Warm Oil Massage and Lymphatic Drainage Face Massage. This is one of several Special Offers currently available. The Happy Hour special is open from 12 to 3:00 pm.
Having completed the welcome processes, my Greeter 'Ally' walked me through the Spa on the way to my treatment room. As we passed through the various zones Ally explained the other services and treatments available. The light timber themed décor, and filtered light continued throughout.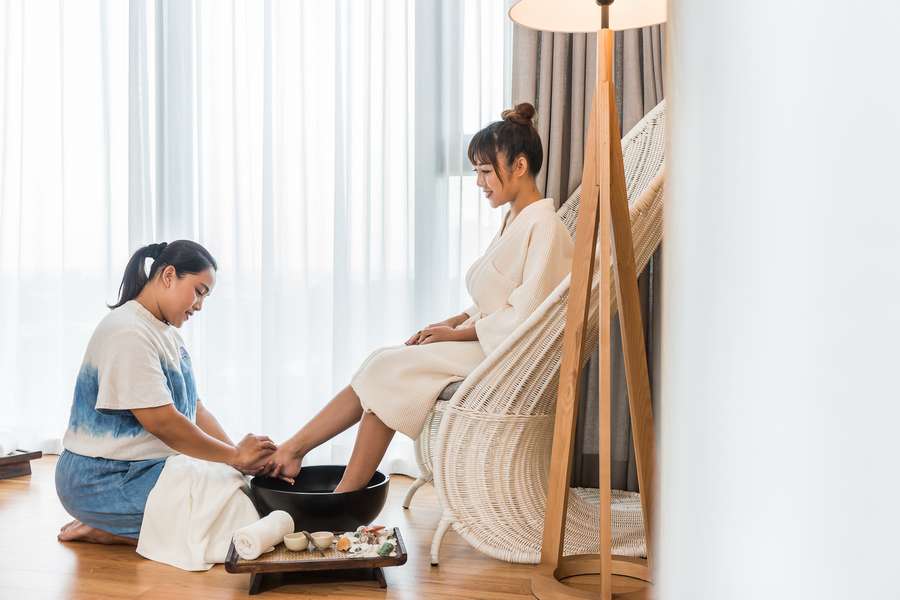 Those looking for Nail Treatments have their own area with large leather reclining treatment chairs to relax in a while your therapist takes you through specialist manicures or pedicures. The next zone is dedicated to Foot Massages where therapist work on reflex zones to bring relief from pain, illness and stress by intensely kneading the reflexive points of the feet, to summon an utterly healing experience. There is even a couples Foot Massage treatment area!
These zones all face the windows and the fantastic outlook to Khao Takiab beach and mountain. The view alone, softened by the opaque blinds, is in itself relaxing.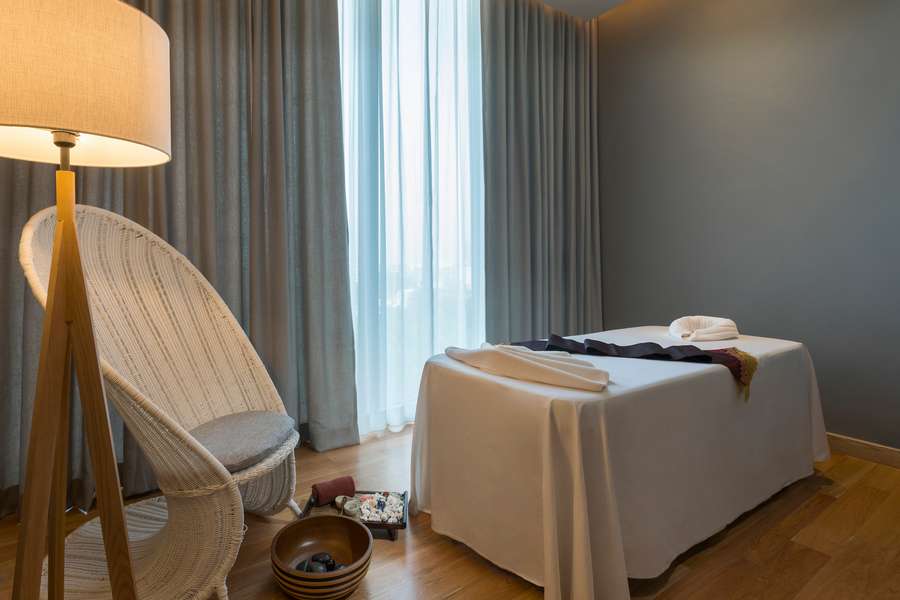 We arrived at my treatment room, and I was passed over to my therapist. This room is setup explicitly for the Aroma therapy massage treatments. The lighting subdued, the temperature comfortable, the ambient music suitable and soft – all was in readiness. The room itself felt spacious with treatment tables for two and relaxation spaces as well. But first, my therapist escorted me to the treatments rooms own bathroom with an enormous showered recess and separate WC. A large comfortable cotton robe awaited me along with little slippers. Suitably ready, my therapist went through a foot washing ritual that helped set the scene for what was to follow – caring and attentive while confirming my preferences for the massage.
Comfortably on the massage table, we began. The massage, to me at least, seemed to combine the Traditional Thai practice of pressure to specific points along the body's meridian lines to release muscle tension, improves joint flexibility and clears energy blockages. This was followed by the gentle and precise application of the warm oil – relaxing lavender for me – and then long gliding strokes with just the right pressure to soothe away any remaining tension, while increasing circulation and soothing any remaining sore muscles.
The treatment time seemed to just melt away, as did all my worries and muscle tightness thanks to the sheer professionalism and skill of my therapist.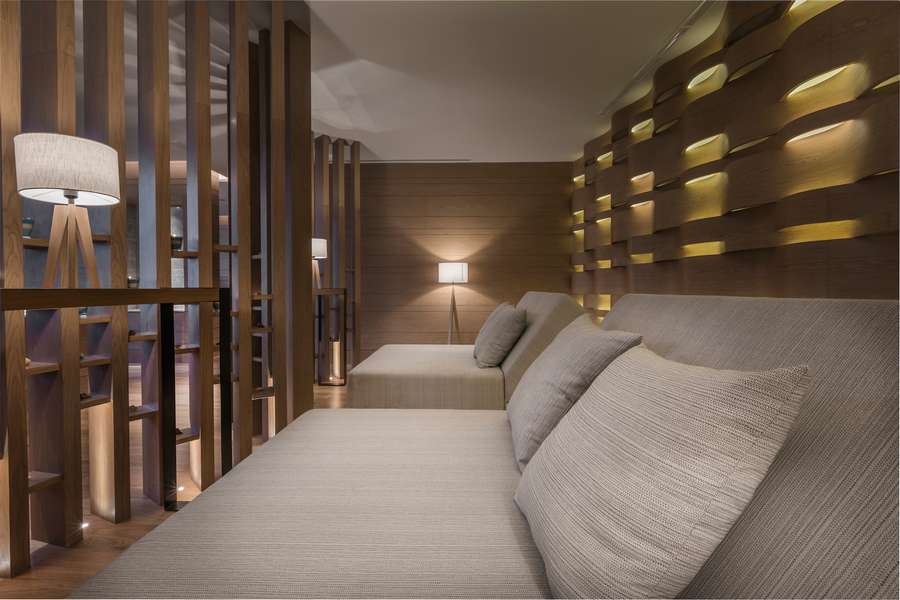 Back in my comfortable clothes, I was ushered into a quiet zone for herbal tea, a hot towel and more of those dried fruit morsels. The quiet area has two, of what seems like, King sized day beds. Certainly big enough for a couple to relax comfortably. In fact, you probably could fit a small family on one of these day beds, such was their size! Left to my own for a time to just enjoy the tea, and reflect on the deliciousness of the treatment. I felt totally relaxed!
Ally returned after a reasonable time to enquire as to my treatment and how I was feeling. She was also gracious enough to take me on an extended tour of the Spa facilities.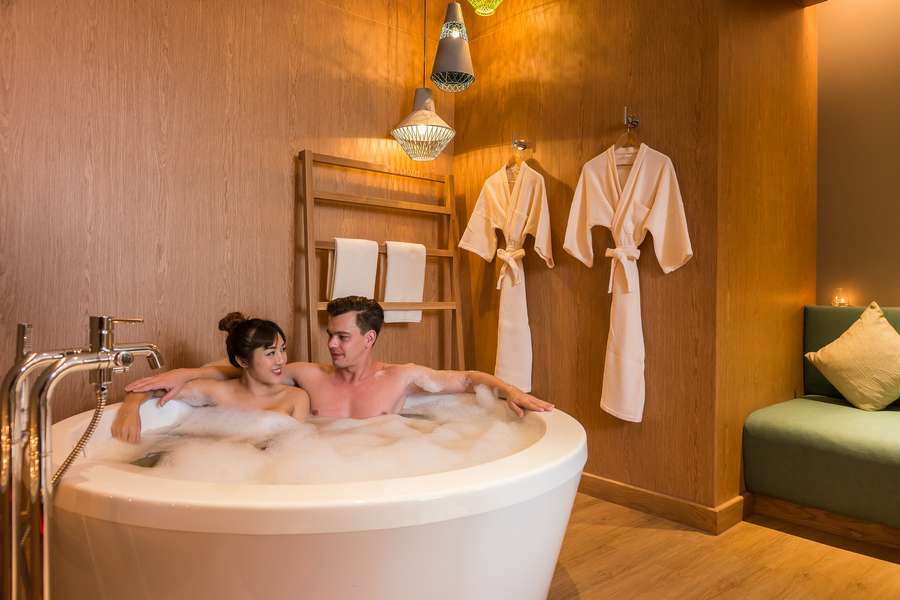 Specialist treatment rooms for Thai Massage with the more traditional low tables to make it easier for the therapists to get on and off. Treatment room specifically for couples with side by side tables and chill out corners. And the most impressive, a couples treatment room and adjoining bathroom with one of the biggest Jacuzzi Baths I've seen. Ally explained this room is used for the 'Luxury Indulgence Package for Couples'. The package starts with 20 minutes in a Jacuzzi Mineral Bath, followed by a Jasmin Rice Body Scrub, an hour long Swedish massage, and finally the application of Body Lotion to top off the luxurious treatment. Two hours of togetherness and pampering with your partner and thanks to a monthly promotion running to the end of July, currently only THB 2,500++ which is a 50 percent discount of the usual price.
Tea Tree Spa has a comprehensive menu of treatments including full day and two day packages. Spa hours are 10 am to 9:00 pm with the last bookings taken for 7:30pm. For reservations or more information contact the Tea Tree Spa on 032 809 999 extension 5121. Advanced reservations are always recommended. Monthly specials are often featured on the hotel's Facebook page. https://www.facebook.com/HolidayInnVanaNavaHuaHin/
Tea Tree Spa's motto – 'Feeling good Made simple.'
Michael Cullen