Few spirits are as shrouded in myth and mystery as much as Tequila—and for good reason. This spicy and instantly recognizable Mexican spirit has been around for centuries, which is plenty of time for a few good tall tales to surface.
"Technically, all tequila is a type of Mezcal, but not all Mezcal is Tequila," explains Natalia Garcia Bourke, brand director for Silencio Mezcal." Think of it like whiskey and bourbon—all bourbon is whiskey, but not all whiskey is bourbon (since it could be Scotch, Irish whiskey, Japanese whiskey, rye, or something else altogether). Tequila must be made in the Tequila region of Mexico. In contrast, Mezcal can be produced anywhere in Mexico, although it's typically produced in the Oaxaca region.
Both distilled spirits are made from agave, but Tequila must be made from a certain type—Blue Weber Agave—and it can only be produced in the state of Jalisco and some parts of Guanajuato, Michoacán, Nayarit, and Tamaulipas. It's made by steaming the heart (or piña) of the agave plant in above-ground ovens and then distilling the liquid in copper pots.
Mezcal, on the other hand, can be made from more than 30 types of agave. Its signature smoky flavor comes from cooking the agave in underground pits, lined with hot rocks that burn for about 24 hours before the cooking process begins.
"This roasting caramelizes the magueys (or agave plants), which gives Mezcal a rich, flavorful, savory, and smoky taste," says Steven Olson, global Mezcal advocate for Del Maguey Single Village Mezcal. "It is the same way that roasted potatoes become full and flavorful as compared to boiled potatoes, which by contrast are much more neutral."
Despite its common association with rabble-rousers like salt and lime or in '70s one-hit wonders like the Tequila Sunrise, this agave spirit has stood the test of time and is as respected among top bartenders as bourbon and Scotch. Even George Clooney put his hard-earned money toward starting a brand of the stuff.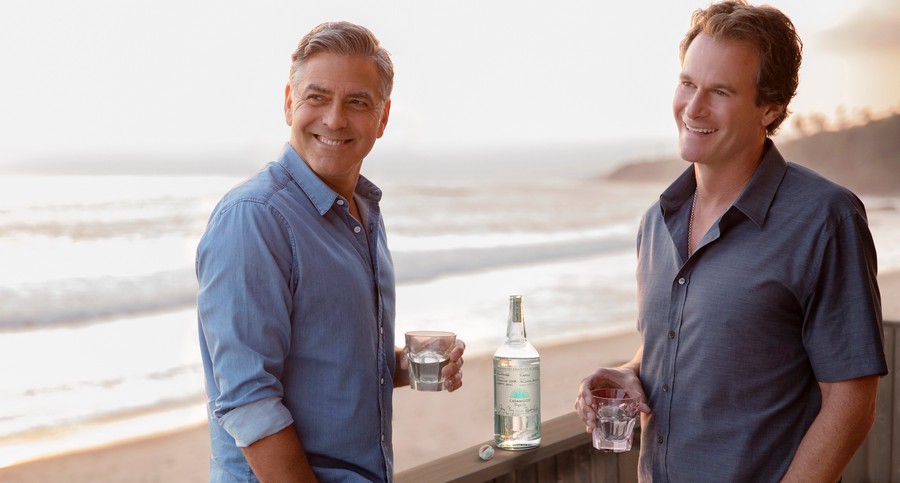 Mr. Clooney founded Casamigos Tequila along with his friends Rande Gerber and Mike Meldman in 2013. In 2017 they sold the brand to the spirits giant Diageo. The deal valued the company at up to $1 billion, with Diageo paying $700 million in cash upfront and up to $300 million more if it hits sales targets over the next decade.
"What started from a friendship and an idea to create the best tasting, smoothest Tequila as our own house Tequila to drink and share with friends quickly turned into the fastest-growing super-premium Tequila," Mr. Gerber said in a statement at the time of the sale.
The company's success eventually drew the attention of Diageo, whose alcoholic wares include Guinness beer and Johnnie Walker Scotch. Among the attractions of Casamigos is the high demand for Tequila, which has grown in popularity as the agave-born spirit has transcended its frat-house base.
Diageo already owns the Don Julio brand. But the company's executives argued that they could take Casamigos to even greater heights by selling it beyond American shores.
Forget tacos, can we celebrate Tequila Tuesday?
Like bourbon, more officially known as America's Native Spirit, Tequila distillers have a stringent set of rules they must abide. Those include ensuring that each bottle is made in the proper location—from the correct ingredients—and that reposado and añejo versions are aged for just the right amount of time. But, as they say, Rome (or in this case Tequila, Jalisco) wasn't built in a day—or even a millennium.
While it's possible—probable, even—that the Aztecs knew how to throw a real rager, Tequila didn't start as the partier's shot of choice. It didn't even start as the Tequila we know today.
The Aztecs prized a fermented drink known as pulque, which used the sap of the agave plant (this technique was also likely used by the Olmecs, an even older civilization dating back to 1000 B.C. that was based in the lowlands of Mexico). The milky liquid was so crucial to the Aztec culture that they worshipped two gods known for their relationship to booze. The first was Mayahuel, the goddess of the maguey, and the second was her husband Patecatl, the god of pulque. Though the original documentation of pulque—on stone walls, of course—appeared around 200 A.D., the drink really caught on centuries later when the Aztecs received a surprise visit from the Spanish.
Exercise makes you look and feel good naked…so does Tequila, your choice!
While there are multiple theories on the beginning of agave distillation, a common telling involves the Spanish invasion and primitive mud stills. The parched Spaniards couldn't be without their brandy for too long, so when supplies began to run low, they improvised with mud and agave, essentially creating what we know today as Mezcal.
In the mid-1500s, the Spanish government opened a trade route between Manila and Mexico, and in the early 1600s, the Marquis of Altamira built the first large-scale distillery in what is now Tequila, Jalisco.
The Cuervo family, who everyone now knows and loves, began commercially distilling Tequila in 1758, followed later by the Sauza family in 1873 (and, we're sure, a few other small producers in between).
As was the case with Rye Whiskey from Canada during Prohibition, Tequila also found a home among American scofflaws. Unable to get their hands on much beyond second-rate whiskey and bathtub gin, drinkers in the U.S. began taking advantage of Mexico's sweet agave nectar—not to mention the more than one hundred bars in Tijuana that were plentiful with drink and easy to access.
Tequila is like duct tape, it fixes nearly everything
By the time 1936 rolled around, it was once again legal to drink in the States, and going to Mexico for a good time was no longer requisite. But a newspaperman named James Graham and his wife took a trip to Tijuana, where they wound up in one of the surviving bars run by an Irishman called Madden, who was known around the area for his Tequila Daisy. Though Madden admitted that the creation of the drink was a lucky mistake, it's become one of the most celebrated in the U.S. (margarita in Spanish means daisy). When was the last time you celebrated Cinco de Mayo without one?
In a move to take ownership of the term "Tequila," the Mexican government declared the term as its intellectual property in 1974. This made it necessary for Tequila to be made and aged in certain areas of Mexico, and it also made it illegal for other countries to produce or sell their own "Tequila." The Tequila Regulatory Council was additionally created to ensure quality and promote the culture surrounding the spirit.
I didn't text you. Tequila did.
From the humble pulque to today's craft Tequilas, bartenders around the world are taming the humble agave nectar into more than simple Margaritas and Tequila Sunrises.
Just as an aged Scotch is more desirable, aging Tequila results in better qualities of the elixir. Blanco or Silver Tequila is bottled immediately after distillation or aged for fewer than two months in stainless steel or neutral oak barrels. Reposado is Tequila or Mezcal that's been "rested" in oak for a minimum of two months but less than a year in oak barrels. Añejo Tequila and Mezcal has aged for between one and three years in oak barrels & Extra Añejo Tequila or Mezcal enjoys aging in oak barrels for a minimum of three years.
Over the course of the last few decades, Tequila—long the unofficial beverage of bad decisions and even worse hangovers—has successfully rebranded itself as a luxury item, crawling out of liquor-soaked dive bars and into high-end cocktail lounges across the world. Still, despite its new, more polished image, there's something about the legend of Tequila that remains cloaked in mythology and mysticism.