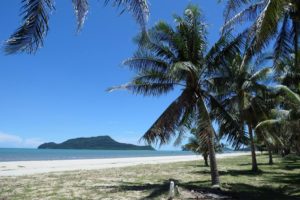 Sam Roi Yod is one of Thailand's most spectacularly beautiful beach destinations, it's the very definition of paradise. Dolphin Bay, approximately 40 minutes South of Hua Hin, is the most well-known beach in that area, it is as tranquil of a location as you could possibly find. Here you can enjoy a Thai-massage on the beach at Thai prices, lunch at a local restaurant, a drink with your feet in the sand or an ice cream from one of the small local shops along this unspoiled cozy beach. There is even a nine-hole golf course nearby.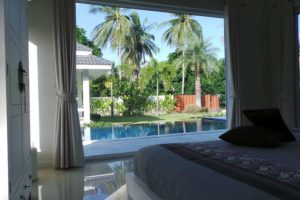 It is here that Dutch developer Pieter Visser chose to build his White Beach Villas housing development. Offering 20 luxurious private pool villas, the project is surrounded by swaying palm trees and mountain views. This tranquil slice of heaven is just 200 meters from a golf course, 300 meters to the national park and 800 meters to the beautiful Dolphin Bay beach.
Pieter is very much a craftsman and takes pride in producing people's dreams. He encourages his clients to customize their homes to their requirements and desires. As such, no two are exactly the same.
White Beach Villas is priced in what realtor's call "The Sweet Spot." It is the price range that the majority of house buyers are interested in, which is between 7 to 12 Million THB.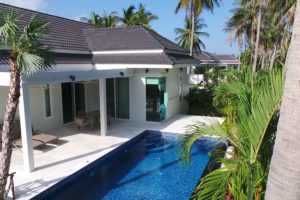 For 7 million, or 6.9M to be exact, you can have the "Villa Jasmine A", which is a 3 bedroom, 2 bathroom home offering an inside living area of 130 sqm's and a total living area of 231 sqm's on a land plot of 544 square meters. This home boasts 3.4m high ceilings, hardwood doors throughout, high spec aluminum windows, 15cm double insulation, 18cm thick walls, Kohler bathroom fittings, Kvik kitchens with granite worktops, a 6.75m x 3.5m swimming pool with overflow and US pool equipment, 2m high perimeter walls, landscaped tropical themed gardens and stainless steel automatic security gates. Included in the price is a Kitchen budget 200,000 THB.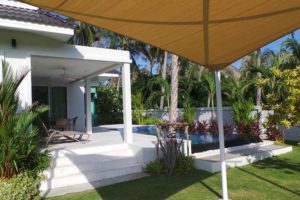 Going up in price to 8.4M is the "Villa Palm B", which is also 3 bedrooms and 2 bathrooms but offers 156 square meters of inside living space and a total living area of 280 square meters. This home has the same specs as the one above but comes with a larger pool at 8 X 4 meters and offers a larger land plot at 545 square meters as standard.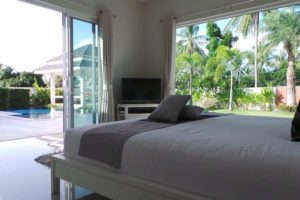 The "Villa Coconut E" is priced at 8.9M and again comes with 3 bedrooms and 2 bathrooms. The internal living area is slightly larger at 162 square meters but the total living area remains the same at 280 sqms. What separates Villa Coconut E from the Villa Palm B, besides the extra 6 square meters is the internal the ceilings are higher at 3.8meters and the land plot is larger at 633 square meters as standard.
Additional land can be added to all "standard" plot sizes on the 3 house types above and is priced at 3,500 THB per sqm.
The second largest house at White Beach Villas is their "Villa Leelawadee" priced at 9.9M. This house style is 3 bedrooms and 3 bathrooms with almost the same internal living space as the Villa Coconut E but a larger total living area of 348 square meters on a larger land plot of 744 sqm's. This home also features a sala and larger carport.
The house Hawaiians would call the "Big Kahuna" is the "Villa Bougan D" boasting 4 bedrooms and 3 bathrooms with 180 sqm's of inside living space and a total living area of of 360 sqm's. Priced at 11.9M, the house occupies a standard land plot of 926 sqm's and also comes with a sala. This premier home features an infinity swimming pool, 28 sqm's of covered terrace and 76 sqm's of open terrace.
All of Pieter's White Beach Villa homes come with 3 phase electrics, German made high quality water pipes, internet connections, luxury fixtures and fittings, Kvik kitchens, built-in cabinets in the bathrooms, air conditioning throughout, high ceilings, 15cm of double insulation in the roofs, over-flow pools (unless otherwise noted), stainless steel electric gates, garden sprinkler systems and Government water supply. Additionally, there is a permanent on-site Property Management and Maintenance office overseen by the General Manager.
White Beach Villas are quality built homes in a gorgeous peaceful setting with the mountains of Sam Roi Yot and swaying Palm trees as a backdrop. Before making a buying decision you should talk to Pieter and view his project. For more information call +66 (0) 84 316 3193 or visit their website, www.white-beach-villas.com